Ivory Coast Counts Votes as Opposition Eyes Parliament Seats
By
Results of race for parliament's seats expected from Monday

Opposition boycotted previous parliamentary polls, referendum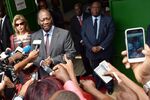 Officials in Ivory Coast started counting ballot papers after Sunday's national polls, which may see the opposition pick up seats in a return to parliament after boycotting the previous vote.
President Alassane Ouattara's ruling coalition, the Rally of Houphouetists for Democracy and Peace, along with hundreds of independent candidates, contested 225 seats against the Front Populaire Ivorien, which was created by ex-President Laurent Gbagbo.
The FPI boycotted previous parliamentary polls and a constitutional referendum in October, and some of its hardliners don't acknowledge Ouattara, 74, an Ivy League-educated former International Monetary Fund economist, as president.
Counting commenced across the nation, the world's largest cocoa producer, after voting stations closed at 6 p.m., Inza Kigbafori, a spokesman for the electoral commission, said by phone. Authorities deployed about 30,000 troops to keep the peace at polling stations, and the day ended with no reports of violence.
"The vote is peaceful throughout the country," Ouattara told reporters after voting at the Lycee Sainte Marie School for Girls in Cocody, a suburb of the commercial capital, Abidjan. "We need a diverse parliament that includes all sections of the population. I hope that the results will be in accordance with voters' wishes."
The election commission is due to start releasing results early Monday.
With Gbagbo currently standing trial at the International Criminal Court in The Hague, the FPI's campaign was led by former Prime Minister Pascal Affi N'Guessan. Gbagbo is blamed for inciting violence that killed more than 3,000 people during a six-month standoff triggered by his refusal to step down after losing the 2010 presidential vote.
Before it's here, it's on the Bloomberg Terminal.
LEARN MORE