Gone in 60 Seconds: Chinese Snap Up Dollars
Bloomberg News
U.S. dollar WMPs provide alternatives to sending money abroad

Authorities continue to clamp down on capital outflows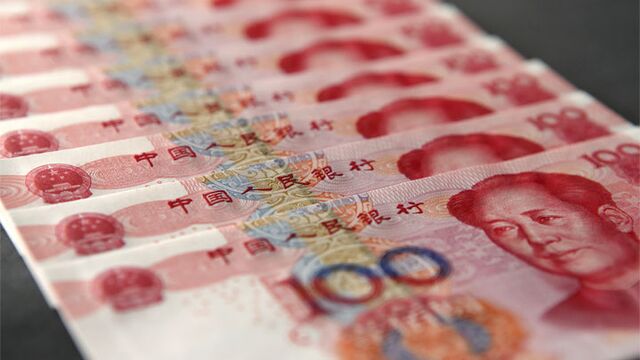 Chinese savers, eager to convert their yuan before the currency keeps depreciating, are snapping up U.S. dollar investment products that offer options for keeping money at home instead of sending it overseas.
A wealth management product from China Merchants Bank Co. in Shanghai last week, paying 2.37 percent annual interest on U.S. dollars, sold out in 60 seconds flat. The product, available since 2014, only allows new investors to buy in when existing holders exit.
"You won't be able to get it online because it's gone in less than a minute," said a branch manager, who would only give the surname Xu, and encourages customers to book a day in advance next time.
A growing number of offerings of such U.S. dollar funds and how quickly they're being purchased show the surging demand for foreign currency amid outflows that are estimated to have totaled more than $1.5 trillion since the beginning of 2015. By shifting into dollars -- U.S., Australian and Hong Kong are among the favorites -- deposit holders are shielded from the yuan's losses without having to take their money out of the country to seek returns. 
"It seems an attractive choice to convert the yuan into the dollar sooner rather than later," Harrison Hu, Singapore-based chief greater China economist at NatWest Markets, a unit of Royal Bank of Scotland Group Plc, wrote in a note. He estimates that household purchases of foreign exchange could double to $15 billion a month in the coming quarter, absent new controls.
A more hawkish than expected outlook from the U.S. Federal Reserve after it lifted interest rates last week has helped accelerate a dollar rally, with analysts predicting further gains.
For more: PBOC Headache Worsens as New $50,000 Conversion Quota Looms
As the yuan has declined, China's authorities have tried to vigorously enforce strict rules on moving cash over the border, where it is often invested in purchases such as real estate. Chinese citizens are limited to exchanging the equivalent of $50,000 a year into foreign currency.
Outflows may have edged up to $80 billion in November from $75 billion in October, according to Bloomberg Intelligence estimates. The State Administration of Foreign Exchange on Friday said that although November's outflows were bigger than the previous month, they remain in a stable range.

In recent weeks, policy makers in Beijing have put the brakes on everything from companies buying assets overseas to offshore purchases of life insurance to stem the tide of cash outflows. The fresh measures include checks by the currency regulator on any capital account transactions involving foreign exchange of $5 million or more. That followed steps earlier this year to ban the sharing of foreign-exchange quotas.
In November, banks sold 49 percent more foreign-currency denominated wealth management products, most of them in U.S. dollars, than in October, according to PY Standard, a Chengdu-based wealth management research and ratings firm that tracks the data. November's foreign currency deposits increased 11.4 percent from a year earlier, more than double the 4.8 percent rise in October, according to the People's Bank of China.
Buying Bonds
Banks often use proceeds from WMPs to buy dollar-denominated bonds sold by Chinese companies offshore, according to Liu Dongliang, a senior fixed-income analyst at China Merchants Bank. It's easier for Chinese companies to get cheaper funding offshore, and they then can bring the money back onshore to be converted into yuan -- an activity encouraged by the government, Liu added.
To avail of China Merchants Bank's dollar WMP, customers need to put in a minimum of $18,000, and the amount can be redeemed at any time. The annual return, which can float daily, hovered at more than 2.3 percent last week. On Tuesday, the return was 1.97 percent, according to the bank's mobile phone application.
Down the street, Ping An Bank offers a one-year U.S. dollar WMP with an annualized return of 2 percent. The latest issuance will have a quota of $10 million, and each customer needs to buy a minimum of $20,000. A bank executive said last month when a similar product was issued, it was gone in 5 minutes.
Don't Care
"Many customers converted yuan into dollars without any idea of where to invest the dollars," said a branch manager in Shanghai who gave the surname Pang. "They don't really care about the interest rate on the dollar, they just wanted to preempt further yuan depreciation."
The yuan has fallen 6.5 percent against the dollar this year. It will weaken about another 1 percent in the first quarter of next year, according to the median of estimates in a Bloomberg survey. On Monday, the yuan was valued at 6.94 to the U.S. dollar. The government has been spending its international reserves to slow the yuan's fall. Beijing's foreign currency holdings, the world's largest, fell in November by the most since January after the yuan declined to an eight-year low.
"Investors have realized that the yuan has become a uni-directional play, so they are looking to hedge themselves," said Keith Pogson, a Hong Kong-based managing partner at Ernst & Young. "It is more subtle than the 'I want to get my money out of China' dilemma that you have had previously."
'Prisoner's Dilemma'
Banks dangle attractive yields to keep depositors from fleeing to the competition, said Larry Hu, head of China economics at Macquarie Securities Ltd. in Hong Kong. 
"It's like prisoner's dilemma," said Hu. "If you don't offer a higher return, other banks will, and your customers will leave."
To be sure, foreign-currency denominated WMPs remain a small portion of the nation's 26.3 trillion yuan ($3.8 trillion) market for wealth management products. And the yields offered aren't attractive enough to prompt the savers to convert their holdings from yuan, said Wei Jiyao, an analyst at PY Standard. Rates paid on yuan are around 3.5 percent to 4 percent.
Instead, the target base is those who already hold dollars. 
"People with dollars on hand also need a way to preserve their value, so low-risk dollar WMPs become their top choice," Wei said.
— With assistance by Wenwen Zhang, Enda Curran, and Jun Luo
(
Corrects to show in second paragraph that Merchants Bank product is not new; removes comparative figure in 12th paragraph.
)
Before it's here, it's on the Bloomberg Terminal.
LEARN MORE