Etihad Airways Cuts Jobs to Reduce Costs as Growth Slows
by , , and
Move comes amid competition, weaker global economic conditions

Cutbacks said to span 1,000 to 3,000 jobs across several units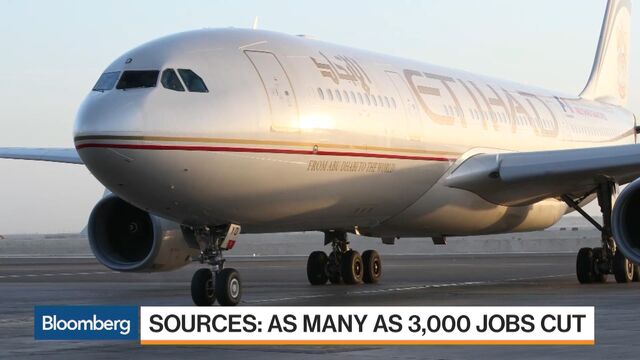 Etihad Airways PJSC will eliminate jobs across several units, highlighting the pressure on carriers in the Persian Gulf to adapt to slowing growth after years of aggressive expansion.
The Abu Dhabi-based company is undertaking "organizational reviews and restructuring" to "reduce costs and improve productivity and revenue," an Etihad spokesman said Sunday in an e-mailed response to questions. This will result in "a measured reduction of headcount" in some parts of the business amid an "increasingly competitive landscape" and a weaker global economy, he said.
The cutbacks started in the last few weeks and will range from about 1,000 to as many as 3,000 jobs, according to people familiar with the plans, who asked not to be identified because the figure isn't public. Several dozen people have already left the information-technology department and reductions are also planned in the human resources and commercial sales units, one person said. Cuts will also involve cabin crew and ground staff, another person said. The spokesman for Etihad, the third-largest Gulf carrier behind Emirates and Qatar Airways Ltd., declined to specify the number of employees affected.
Etihad is changing course with the job cuts. The company almost tripled its staff to 20,292 in the past eight years, as its fleet expanded to 122 aircraft from 42. It employs 26,769 when including subsidiaries and employees abroad. Its aggressive bid for growth included buying stakes in European carriers Air Berlin Plc and Alitalia SpA, which are both struggling. Air Berlin, which is cutting its core fleet in half, named Lufthansa manager Thomas Winkelmann on Sunday as chief executive officer, replacing Stefan Pichler, who lasted less than two years.

Hit by the economic fallout of lower oil prices, Gulf airlines are facing slower growth and need to adjust after years of expansion. Emirates Group reported a 64 percent plunge in first-half profit, while Qatar Airways said demand from the oil and gas industry was softening during the drop in crude prices. Net income for airlines from the Middle East will drop to a combined $300 million in 2017 from $900 million expected for 2016, the International Air Transport Association forecast this month.
Part of the Gulf airlines' shifts include slowing capacity growth on European routes, once a key source of traffic gains, according to figures compiled by travel-data provider Diio LLC. Expansion of 4.1 percent predicted for the first quarter would be lowest level in more than a decade.
"Threats are emerging to the success story of the Gulf carriers, including increases in airport charges across the Gulf States and growing air traffic management delays," IATA said Dec. 8. Airlines from the region will post the second-lowest operating profit margins this year and next, the association estimates, with only carriers from Africa having lower profitability.
Etihad aims to "maximize redeployment opportunities" within the group and ensure transparent information is available to staff, the airline said in its e-mail Sunday.
Before it's here, it's on the Bloomberg Terminal.
LEARN MORE