China's 'The Great Wall' Opens Big in Test for Movie Market
Bloomberg News
A box-office haul for the pairing of Matt Damon, Zhang Yimou

Billionaire backer Wang expanding in movies, TV, theme parks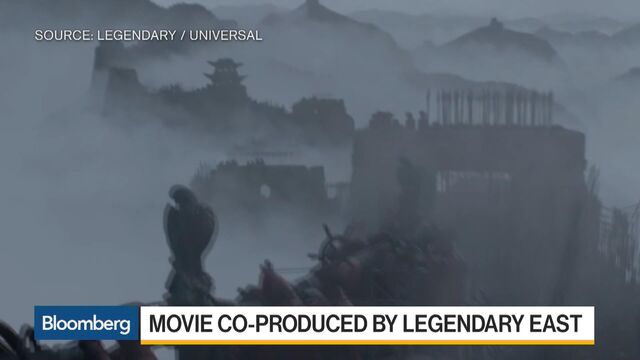 The Matt Damon film "The Great Wall" sold about 462.5 million yuan ($67 million) in tickets in China during its opening weekend, a sign that pairing a bankable Hollywood actor with a celebrated local director and theme may be a recipe for reviving box-office growth.
The $150 million English-language monster-action epic starring Damon and directed by Zhang Yimou reached blockbuster status on its first day, drawing about 123 million yuan on Friday, according to data from Ent Group, a film industry consultancy. A film that reaches at least 100 million yuan in ticket sales is considered a hit in China, the world's largest film market after the U.S.
"The Great Wall" is co-produced by Legendary East, a unit of billionaire Wang Jianlin's Wanda Group, which is spending billions of dollars to expand into movies, television and theme parks. A multi-year boom in ticket sales has brought global attention and dealmakers to China's movie market, only to see a dearth of hits this year undercut the rise in box-office receipts.
"The key to watch for the next few weeks is whether the film could receive good reviews to keep the momentum," said Richard Huang, an analyst at Nomura Holdings Inc.

Reactions to the film from moviegoers and critics have been mixed. The movie scored 5.7 out of 10 on movie database imdb.com's ranking system, compared with an average of 8.4 on the Chinese rating site Maoyan.
See also: China's internet giant Tencent is shopping for movie assets
Debut weekend box-office results are especially important because cinemas in China adjust their schedules every few days to introduce new films that show promise, or to extend the run of those that are still selling well. A movie that has a big opening weekend is usually assured wide distribution in theaters in the best time slots.
Word-of-mouth promotion and reviews are also important to build buzz for the film, the most expensive ever shot in China, as it opens in coming weeks in overseas markets.

China Film Group, Le Vision Pictures and Universal Pictures also co-produced "The Great Wall," which is scheduled for release in 30 other countries and regions between late December to April, including the U.S. and Europe, according to imdb.com.
"Warcraft," another big-budget Legendary title became a summer hit in China selling about $212 million in tickets, only to flop in the U.S. at $47.2 million. Legendary is taking fewer chances with "Great Wall."
The marketing budget is "significantly larger" than that for "Warcraft," Peter Loehr, the film's producer, said in an interview earlier this month in Beijing. He declined to disclose the amount.
Qingdao Subsidy
"Great Wall" was also the first to shoot -- and the first to obtain subsidies -- at Wanda's Qingdao Movie Metropolis, a sprawling complex that's still under construction and billed as the world's largest movie studio.
Wanda's Wang in October unveiled incentives to lure Hollywood to shoot films in the 200-hectare (494 acre) Qingdao complex. In addition to Legendary, eight studios including Lions Gate have agreed to use the facility.
China is on course to become the world's biggest box office in 2017, even though the shortage of big hits has led to the slowest annual sales growth since 2008.
— With assistance by Hao Huang, and Jeanne Yang
Before it's here, it's on the Bloomberg Terminal.
LEARN MORE