Buoyed by Regional Support, Gambia's Barrow Says Vote Stands
By and
Gambia's president-elect says he'll assume office in January

West African leaders are 'taking measures' to support Barrow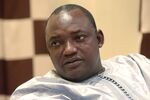 Buoyed by the support of regional leaders, Gambia's President-elect Adama Barrow said he will assume office in January even as incumbent Yahya Jammeh refuses to accept he lost the presidential election earlier this month.
Barrow and Jammeh are in a standoff over who will rule the West African nation. Jammeh, in power since 1994, conceded defeat following the Dec. 1 vote, only to make an about-turn one week later. Jammeh's current term -- he was most recently elected in 2011 -- finishes on Jan. 18 to mark the end of his 22-year rule.
"The team for the inauguration is at work," Barrow said in an e-mailed statement on Sunday. "I still wish to call on outgoing President Jammeh to accept his status in good faith and facilitate a smooth transfer of power."
Leaders of the Economic Community of West African States have pledged to take "all the necessary measures" to ensure that Barrow's victory will stand, Ivory Coast President Alassane Ouattara said on Sunday in that country's commercial capital, Abidjan. He said the organization didn't yet want to make public what the measures would be, but that it has asked the African Union and the United Nations for backing.
Ecowas heads of states met on Saturday in Nigeria's capital, Abuja.
'People's Choice'
"We are determined to uphold the Gambian people's choice," Ouattara told reporters. "All West Africa's Presidents will go to Banjul" for Barrow's inauguration on Jan. 19, he said, referring to the Gambian capital.
Nigeria President Muhammadu Buhari and his Ghanaian counterpart, John Mahama, who last week accepted defeat in that country's elections, will act as mediators in the standoff, Barrow said.
Last week, Gambia's ruling party filed a petition against Jammeh's defeat at the country's supreme court, citing irregularities during the voting process. Barrow obtained 263,515 of the votes against 212,099 for the incumbent. Jammeh also appointed a new judge for the court, which had had no sitting justice for more than a year.
Criticized by human rights groups for brutally stifling dissent, Jammeh achieved landslide victories in four previous polls after seizing power in 1994. Bellicose statements and claims of extraordinary powers are the hallmarks of his leadership style; Jammeh has said he could cure AIDS and infertility, and has proclaimed himself a doctor as well as a professor.
Before it's here, it's on the Bloomberg Terminal.
LEARN MORE