Henry Heimlich, Pioneer of Maneuver to Halt Choking, Dies at 96
by
He invented technique to dislodge food stuck in windpipe

Physician saw role for himself in devising 'simple solutions'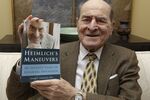 Henry Heimlich, the pioneering U.S. surgeon who invented and then popularized the eponymous maneuver that he said saved more than 50,000 people from choking, has died. He was 96.
His death was announced Saturday by the Cincinnati senior center where he lived. He died late Friday from complications after a heart attack on Monday, Episcopal Retirement Services said in a statement.
The Heimlich maneuver, the crowning achievement in a life of innovation and more than a little controversy, is among the best-known, most widely attempted emergency medical procedures, familiar by name even to people with no first-responder training. It uses the air in a person's lungs to expel food stuck in the trachea, or windpipe.
"Dad was a hero to many people around the world for a simple reason: He helped save untold numbers of lives through the innovation of common-sense procedures and devices," Heimlich's family said in the statement.
Heimlich developed his technique in 1974, when accepted wisdom called for slapping the back of somebody choking on a piece of food, to knock the blockage loose.
Then the director of surgery of Jewish Hospital in Cincinnati, Heimlich anesthetized a beagle and tested various methods to free an object from its larynx, according to a 2004 profile in the alumni magazine of Cornell University. (Heimlich wrote in a 1974 article that he experimented on four beagles.) He concluded that the best result came from pressing forcefully under the diaphragm.
Research Regret
In his 2014 memoir, "Heimlich's Maneuvers," Heimlich expressed regret for the widespread use of animal testing back then: "If I were to conduct a medical experiment today, I would look only to solutions that do not involve animal research."
He spread the word about his recommended method: sharply clench the person's upper abdomen in a bear hug to send a burst of breath through the blocked airway.
When Ronald Reagan choked on a peanut in 1976, longtime aide Michael Deaver performed the Heimlich maneuver to save the future U.S. president. In 1979, NBC Nightly News anchor Tom Brokaw used it to free a piece of cheese from the throat of his broadcasting colleague, John Chancellor. Film director Robert Altman saved actress Cher from choking on a vitamin pill. When a peanut became lodged in Ehud Barak's throat during U.S.-sponsored Mideast peace talks at Camp David in 2000, an aide to the Israeli prime minister employed the Heimlich to help.
In May 2016, it was Heimlich's turn. At 96, he used his technique to save an 87-year-old woman who was choking on food in the dining room at his senior center.
Name Change
Heimlich said he called his innovation "sub-diaphragmatic pressure" before the Journal of the American Medical Association introduced the catchier name "Heimlich maneuver."
His own best publicist, Heimlich reached out to medical journalists to spread news of his invention, and in 1979 he appeared on "The Tonight Show With Johnny Carson."
The Heimlich became widely endorsed. In 1985, U.S. Surgeon General C. Everett Koop called it the only method that should be attempted when somebody chokes on food. The American Red Cross and the American Heart Association came around to support its use -- though in 2006, the Red Cross, to Heimlich's dismay, recommended that back blows be attempted first.
Self Promotion
He never stopped tending to his image and fame, publicizing his maneuver through an institute and websites that listed the names of celebrities, such as actors Elizabeth Taylor and Walter Matthau, former New York City Mayor Ed Koch and sportscaster Dick Vitale, who were "saved from choking to death by the Heimlich Maneuver."
He found resistance and criticism from the medical community when he advocated his maneuver as the best first step in reviving victims of near-drowning.
The U.S. Lifesaving Association, which represents lifeguards, insisted the Heimlich would be an irresponsible first step in a rescue. The American Red Cross and the American Heart Association said Heimlich-like abdominal thrusts would be appropriate only in rare cases when cardiopulmonary resuscitation is ineffective due to the airway being blocked.
Similar resistance met Heimlich's endorsement of the maneuver to people suffering asthma attacks and cystic fibrosis.
No Cure
Further criticism came when Heimlich, resurrecting a procedure used decades earlier, claimed he could cure cancer, Lyme disease and AIDS by injecting patients with malaria, to boost their immune systems. He went so far as to hold a clinical trial in China from 1993 to 1996. The U.S. Centers for Disease Control and Prevention issued a memorandum saying the practice "cannot be justified."
One of Heimlich's own children, son Peter -- at first acting anonymously -- spearheaded a campaign to discredit him.
"My father has an overwhelming need for attention," Peter Heimlich told ABC's "20/20" in 2007. "And he took the Heimlich brand, if you will, and needed to keep it going."
In his 2014 memoir, "Heimlich's Maneuvers," Heimlich named his three other children and made no mention of Peter.
Family Feud
His wife, the former Jane Murray, who died in 2012, also wrote a memoir, "Out of Step" (2010). It focused on her famous father, Arthur Murray, the impresario of dance instruction. She mentioned all four children, including Peter, and didn't address the father-son feud.
Describing her husband to Cornell's magazine, Jane Heimlich said, "He's a bit of a heretic. I think one of his great traits is perseverance. He doesn't give up just because the learned authorities say it's never been done this way."
Henry Judah Heimlich was born on Feb. 3, 1920, in Wilmington, Delaware, one of four children of Philip Heimlich, a social worker, and the former Mary Epstein. He grew up in New York and attended New Rochelle High School. For a time, he said, he changed his middle name to Jay to become a less-obvious target of anti-Semitism.
Drum Major
At Cornell, in Ithaca, New York, he was drum major in the university band and received a bachelor's degree in 1941. He won acceptance at Cornell's medical college, in New York City, and through a program accelerated by wartime, he received his medical degree in December 1943.
He got a taste of medical heroism when, at 21, he saved the life of a locomotive fireman after their train derailed in Connecticut.
It was during World War II that Heimlich, as he described it, began putting his mind to "creative, simple solutions" to "seemingly insurmountable health and medical problems." Assigned by the U.S. Navy in 1945 to a joint U.S.-China camp in Inner Mongolia, he tried out a new treatment for trachoma, a bacterial infection that caused blindness. He said his remedy -- a handmade topical application of ground-up sulfadiazine tablets -- helped hundreds of people.
After the war, Heimlich spent three years as a surgical resident in New York, at Mount Sinai Hospital and Bellevue Hospital.
Medical Advances
His next innovation, in the 1950s, was an operation to replace a malfunctioning esophagus using a tube from the stomach. He later learned, and acknowledged, that a Romanian surgeon, Dan Gavriliu, had begun performing the operation years earlier.
In 1964, Heimlich introduced an improved mechanism to drain blood and air out of the chest cavity of somebody who has a gunshot wound or a collapsed lung. The Heimlich Chest Drain Valve became integral in treating combat injuries during the Vietnam War.
Heimlich moved his family to Cincinnati in 1968 to direct surgery at Jewish Hospital, now part of Mercy Health. He was a professor of surgery at the University of Cincinnati from 1969 to 1978, and a professor of advanced clinical science at Xavier University from 1977 to 1989.
(The sixth paragraph of this story was updated on April 26, 2017, to show Heimlich performed his experiment on multiple beagles.)
Before it's here, it's on the Bloomberg Terminal.
LEARN MORE