Your Evening Briefing
Here are today's top stories.
Bloomberg News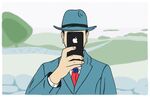 Want to receive this post in your inbox every afternoon? Sign up here.
The weather outside might be frightful, but there are plenty of things to get heated about. The new Star Wars movie, perhaps, or the world's most valuable company avoiding taxes. But if you'd rather get toasty instead of heated, you can always opt for some pumpkin Bourbon Eggnog (recipe below). —Megan Hess
The inside story of Apple's $14 billion tax bill. Ireland allowed Apple to create stateless entities that effectively let it decide how much—or how little—tax it pays. In August, the EU said Ireland had broken European law by giving Apple a sweetheart deal. But how did things get that far? This story is based on interviews with dozens of officials from the EU, Ireland, and Apple.
Barack Obama and Hillary Clinton speak up about Russia. At his final news conference of the year, President Obama said the U.S. government took a cautious approach to allegations of Russians hacking before the U.S. election out of concern that the issue would be politicized. On Thursday, Clinton said that the Russians had sought to "undermine our democracy" through the cyberattacks, which she believed were a result of Putin's "personal beef" against her.
Forget "Rogue One"—Disney is rebuilding the entire Star Wars universe. All of the hyper geekdom around Star Wars is very, very big business. So the canon, as the faithful call it, must be rebuilt. The first feature film outside the main stories is just a small part of a wholesale remaking of George Lucas's saga.
OPEC's decision to cut output might transform global oil flows. Early signs are that Middle East suppliers will prioritize Asia, pushing competitors in Africa and the Americas to keep cargoes in the Atlantic region. Saudi Arabia has indicated it will initially maintain most flows to fast-growing Asia, while draining more heavily oversupplied Western regions. Kuwait is doing much the same.
Will the Trumps cash in at the White House? Donald Trump enters the White House with myriad financial conflicts that could tarnish his presidency, Tim O'Brien writes for Bloomberg View. Here's a look at what's at stake.
Everyone's already mentally checked out for year. If you're running a business, you might as well close up shop for Christmas right now. More than half your employees might (physically) be there, but they're not putting their heart into it. A survey by Peakon, a Danish startup that measures employee data, found that 54% of British workers mentally check out for the holidays by today.
Top bartenders reveal their favorite winter cocktail recipes. There's only so much plain old eggnog and mulled wine one can consume in December. These recipes range from riffs on the classic Negroni to an update on Irish coffee. If you're feeling more adventurous, there's even one with sweet potato juice.

Before it's here, it's on the Bloomberg Terminal.
LEARN MORE