Trump Rejects Climate Change, but Mar-a-Lago Could Be Lost to the Sea
Floridians in Palm Beach spend millions to deal with rising seas.
By and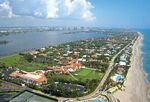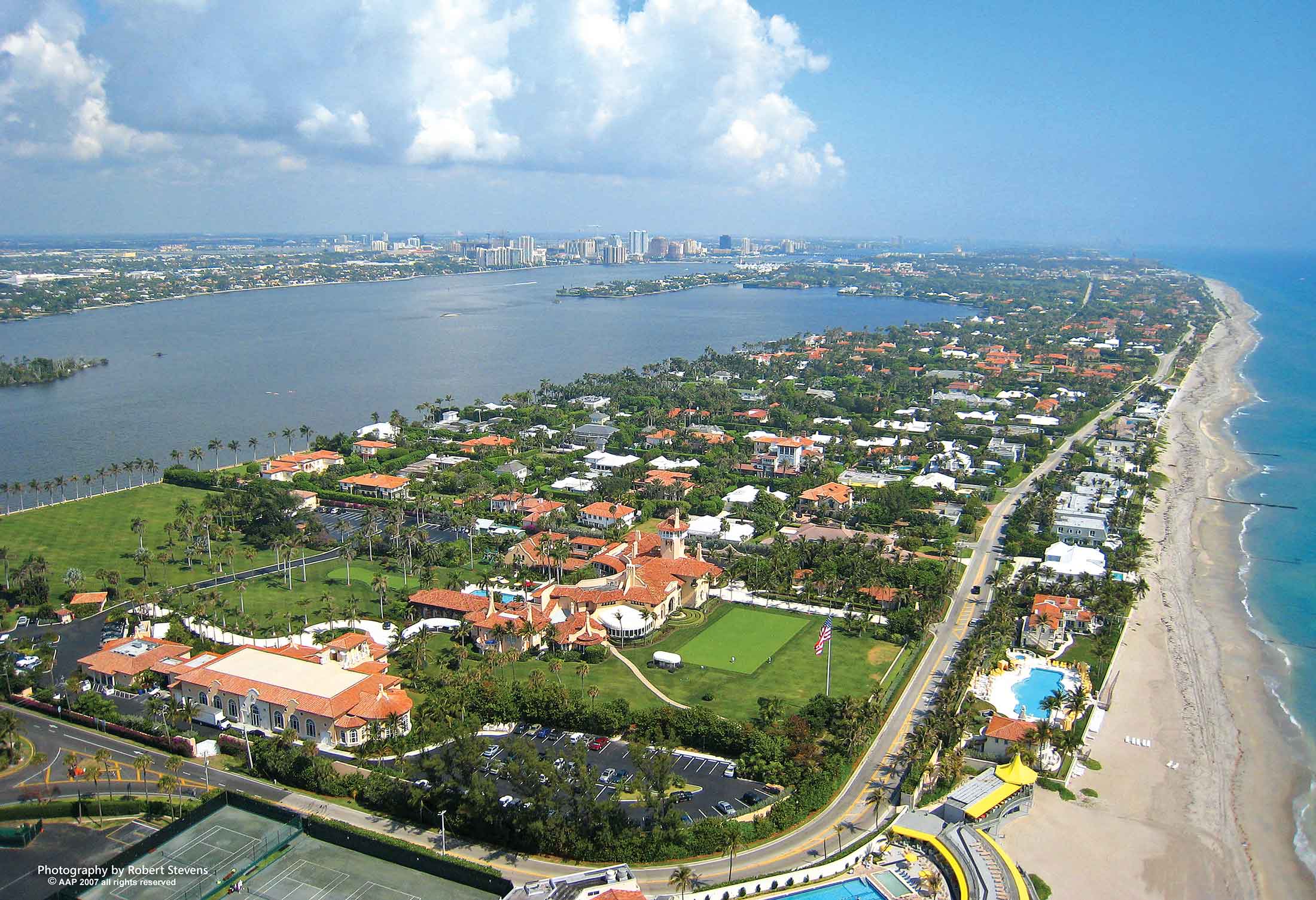 Donald Trump shelled out $409,759 for property taxes in 2016 on Mar-a-Lago, his oceanfront club above billionaire's row in Palm Beach, Fla. Some of those tax dollars will go toward combating the ravages of climate change, a phenomenon the president-elect has dismissed as a hoax. Trump tweeted in 2012 that "the concept of global warming was created by and for the Chinese" to make U.S. industry less competitive. In early December he told Fox News that "nobody really knows" whether climate change is real. He's picked Oklahoma Attorney General Scott Pruitt, a staunch denier of climate change, to run the U.S. Environmental Protection Agency.
That's not stopping officials in Palm Beach from preparing to deal with its effects. This year, the town overhauled 12 pumping stations to push storm runoff up a huge pipe to the Intracoastal Waterway under a 20-year, $120 million infrastructure plan to deal with increased rainfall and street flooding, among other issues. Palm Beach's system can now suck up almost 1 million gallons of runoff a minute. "I just deal with the reality that sea levels are rising," says Palm Beach Town Manager Thomas Bradford. "I don't want to rile people up about it."
A bike path along the Intracoastal Waterway floods when the full moon and high seas cause so-called king tides, which have grown more intense. Brackish water bubbles out of the ground, forced up by pressure on the water table from rising sea levels. According to Palm Beach County's online climate-change mapping tool, the back quarter or so of Mar-a-Lago's verdant, palm-tree-lined grounds would flood if sea levels rise two to three feet. The town recently changed the construction code to require higher seawalls around homes built on the water because of the threat of higher seas.
In 2015 the county created a department dedicated to staving off the effects of climate change and hired Natalie Schneider to be its first climate-change and sustainability coordinator. The county is planning to add two more people to her department in 2017. "These are all very complex issues that I know some people have trouble understanding," says Schneider, a marine policy and planning specialist. "We're anticipating the extremes will get more extreme, and we have to get everyone engaged in preparing for that."
Palm Beach County has participated since 2010 in joint planning with neighboring Broward, Miami-Dade, and Monroe counties under the Southeast Florida Regional Climate Change Compact. According to a report produced by the group, sea levels in the region could increase from the 2010 mean level as much as seven inches by 2030 and two feet by 2060.
As much as $557 million of property in Palm Beach County is vulnerable assuming a one foot increase in sea level. That worries Robin Bernstein, a Mar-a-Lago member who's president of an insurance brokerage. The barrier island that the town sits on is only two blocks wide where she lives. "So you can imagine, three feet of water-level change would severely impact us," she says. Yet Bernstein, a Republican, says she's not bothered by Trump's stated position on climate change. "What I trust in Donald Trump is that he will look at all sides of an issue," she says. "He will surround himself with the best and the brightest people and find ways to come up with creative solutions to combat today's and tomorrow's problems."
John Morgan, director for environmental services in Delray Beach, south of Palm Beach, isn't waiting for Trump to come around. The ocean is already crashing over bulkheads and swamping marinas. Morgan estimates the town sees 30 to 45 days a year of street flooding caused by king tides; it used to be just a few days a year. Like Palm Beach, Delray is spending millions of dollars to install special valves and pumps to keep rising seas out of storm sewers. There are plans to raise seawalls. "Sea-level rise is happening, and we have to adapt," Morgan says. "And I'm sure that the folks at Mar-a-Lago are going to want to adapt, too."
The bottom line: Trump has rejected the science of climate change, but a quarter of his Mar-a-Lago resort could be lost to the sea in coming decades.
Before it's here, it's on the Bloomberg Terminal.
LEARN MORE