These Charts Show New Winners of China's Transition to Wealth
By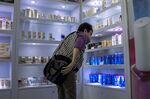 Instant noodles, make space for expensive liquor.
With the world's second-largest economy recording a year-on-year growth rate of 6.7 percent for three quarters in a row in 2016, the country's nouveaux riches are spending more money on movies, tourism and entertainment.
This "consumption upgrade" has created "structural outperformers," says BNP Paribas SA analysts Xingdong Chen and Jacqueline Rong.

Revenue growth of high-end liquor — Wuliangye and Kweichow Moutai — has soared this year, after declining dramatically between 2013 and 2015 after Xi Jinping launched the nationwide anti-graft campaign. 

"Because of the unabated anti-graft campaign, the rebound in demand should come from Chinese households, not officials, reflecting the upgrading trend of the well-off Chinese," Chen and Rong wrote in a Tuesday report.
Decades of robust income growth has allowed people to go from spending most of their money on necessities, to being able to afford services that boost living standards, the analysts say. China's movie ticket box office, for example, grew 39 percent annually between 2009 and 2015, according to BNP.
"When you see such a form of consumption upgrade taking place in China, one of the key beneficiaries is entertainment like movies," Richard Huang,  gaming, lodging & leisure research analyst for Asia ex-Japan at Nomura Holdings Inc., said in a media briefing Friday. "Next year, we could have a 25 percent box office growth, if not more."

Tourism expenditure overseas soared to $292.2 billion in 2015, more than doubling in just two years, according to the analysts. China's tourism deficit rose to $206 billion in the 12 months through June 30, up from $77 billion in 2013.  

An increase in luxury spending has weaned Chinese people off  "low-end consumption" items, such as instant noodles, the BNP analysts say.

"This structural change is a natural step when migrating from a developing economy to a developed one," BNP's Rong said in an interview. 
A pick-up in consumption alone won't drive economic growth, says Yang Zhao, China chief economist at Nomura.
"We have found that investment is still a very active variable in the macro economy and that's why we don't pay so much attention to consumption when we are trying to forecast the growth,'' he said.
Before it's here, it's on the Bloomberg Terminal.
LEARN MORE