The $50 Chicken: Kosher Gets Ethical, and More Expensive
Pasture-raised, organic-fed, and rabbi-approved. But what's going on in the slaughterhouse?
By
Heritage chicken is back!
When did it go missing, you might wonder, and what is it? But to some it's a big deal, so KOL Foods, a small meat company based in Silver Spring, Maryland, sent its subscribers an email this month with the triumphant subject line, announcing the second offering of the special birds after a trial run earlier in the fall.
Unlike the typical chicken that KOL (and nearly every other poultry producer in the U.S.) sells, these birds aren't bred for extra-large, quick-growing breasts. They're more like Colin the chicken of Portlandia, or Queen Elizabeth, with a proper heritage—in this case dating back to the 19th century, according to the email. And like all KOL birds, they are pasture-raised, organic-fed, and free of antibiotics and chemical pesticides.
On of top of that, they are kosher, certified as having been slaughtered according to the strict rabbinical requirements of Jewish law. On top of that, they run $45.49 plus shipping for a three- to four-pounder.
Grow & Behold, another kosher meat company, is marketing the heritage birds for about the same price. Both companies are supplied by Frank Reese of Good Shepherd Poultry Ranch in Lindsborg, Kansas, the culmination of an effort led by animal welfare organizations Farm Forward and the Jewish Initiative for Animals.
All this for 1,400 fancy chickens.

After a series of scandals over cruel and dangerous practices at slaughterhouses, kosher and mainstream alike, consumers seem to be willing to pay more for a product that boasts a commitment to animal welfare, the environment, and worker health. For those who don't want to shake all the contents of their wallets out on the counter, KOL Foods and Grow & Behold sell regular chickens, too—not knighted, perhaps, but raised with the same standards, year-round and for about half the price of their heritage offering. While their approaches and standards differ on some details, they market the product on the same guiding principle: It's kosher, sure, but it's ethical, too.  
And both are prospering. "As long as I can stock the product, it will sell," said Devora Kimelman-Block, founder and CEO of KOL Foods. She has seen average annual sales growth of 20% over the past five years, she said, and nearly sixfold growth since her first full year, in 2009. Naftali Hanau, CEO and founder of Grow & Behold, has a similar story to tell. "Our growth is very strong. Well into the double digits every year," he said. 
Some people say they're even eating less meat now so they can afford the good stuff.
"I know there's a difference in quality relative to what I buy in the grocery store," said Rivka Friedman, a Washington, D.C., health care policy professional, former food blogger, and avid home cook who has used products from both companies. "The meat is firmer, less watery, and the breasts aren't oversized."
Plus, she said, it doesn't stink.
"When you open up a grocery store chicken, it has that gross smell," Friedman said. "I feel like if it's odorless, it's probably a better product than if it reeks."
The realities of meat production in the U.S., including animal confinement and an undocumented immigrant workforce, have been widely reported. For some consumers, the kosher seal seemed like a solution. That began to change in 2004, with a series of undercover videos by People for the Ethical Treatment of Animals at an AgriProcessors plant in Postville, Iowa, then the country's largest kosher slaughterhouse, revealing brutal methods that often left animals conscious after their throats had been slit. They violated the spirit, if not always the letter, of kosher laws, originally developed to minimize the animals' pain. 
In May 2006, an article in the Jewish publication The Forward detailed worker abuse at the plant, reporting undocumented immigrants performing dangerous jobs, often for less than $7 an hour, with wages sometimes withheld and attempts to unionize failing in the face of intimidation. In 2008, in the largest single-site raid at the time, the Department of Homeland Security found nearly 400 undocumented immigrants working in the plant.
"It was a watershed moment," said Aaron Gross, the chief executive of Farm Forward, who worked with PETA at the beginning of its investigation. Many in the kosher community woke up to the fact that their food might be coming from a bad environment. AgriProcessors eventually went into bankruptcy, and the plant was sold to AgriStar. 1  
"Everything we do is aboveboard and on the books," said Eli Weinstock, AgriStar's director of sales and marketing and the manager of the Brooklyn distribution center. "We all know that there are many companies that use people that are illegal, but we can't, because we're under a microscope." The company employs a consultant to monitor it on animal welfare.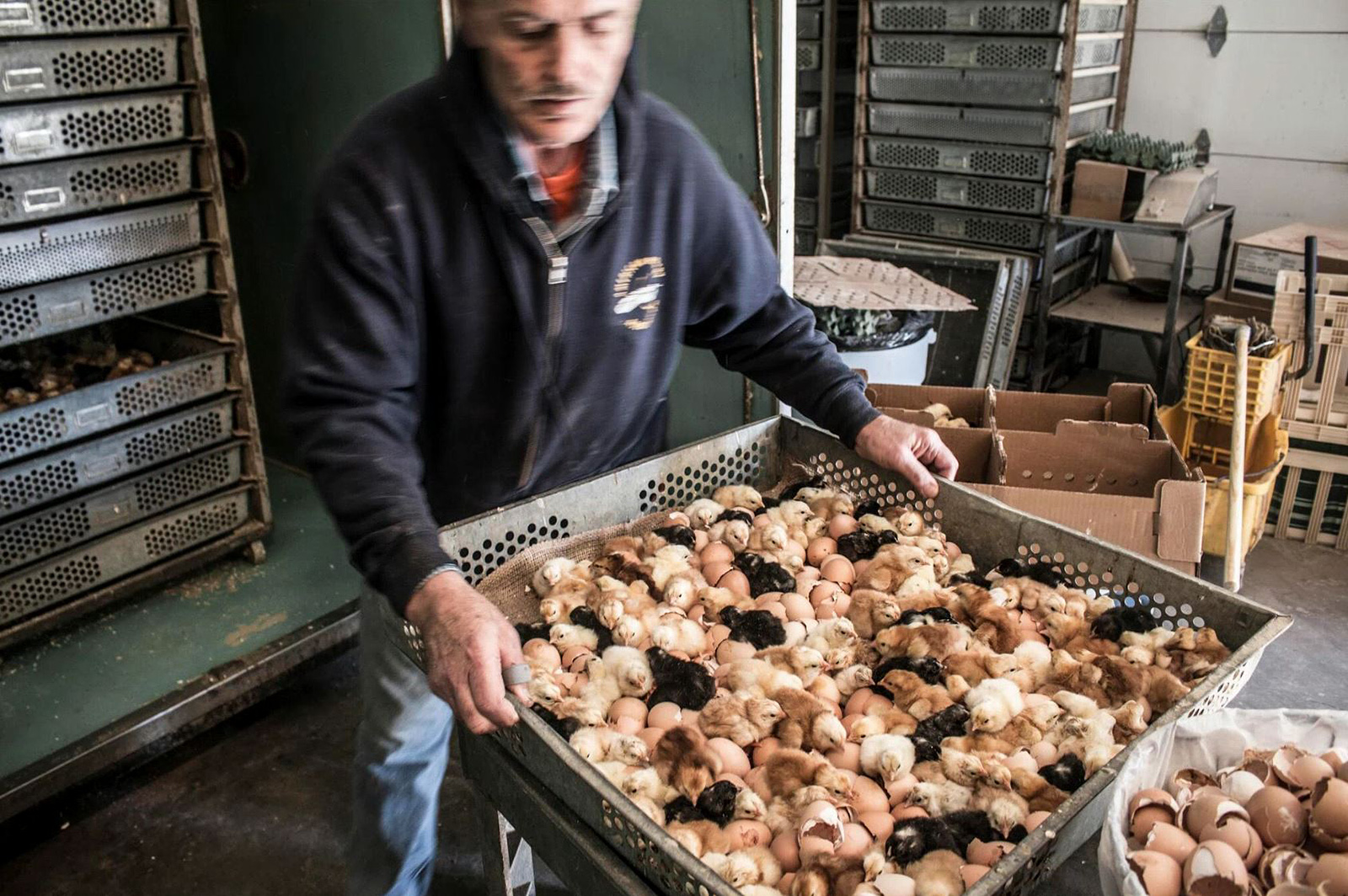 AgriProcessors wasn't the end of it. In May, Alle Processing, another big kosher meat company, settled a lawsuit for $5.2 million (without admitting wrongdoing). The suit alleged that workers, many of them immigrants, had had their wages withheld. Alle didn't respond to a request for comment.
Here's the problem. The Orthodox Union, the kosher certifying body, says its seal refers only to the method of slaughter. "The OU means that it's being processed or produced in accordance with kosher law," said Rabbi Menachem Genack, chief executive of OU Kosher, echoing the response he gave after a federal immigration raid at the AgriProcessors plant. Worker welfare and the environment are important, he said, "but they're not part of the supervision that we're doing." U.S. government bodies handle the labor and environmental laws, he said. 
For kosher consumers who want to be sure their meat meets higher standards, KOL Foods and Grow & Behold now offer an alternative. But it's a complicated, and therefore expensive, one. 
"Just making meat for people to eat is complex," Grow & Behold's Hanau said. "Making kosher meat is even more complex. Making kosher meat that is high quality and ethically produced—now you're really going crazy."

You can buy a regular 3.5-pound whole chicken on Amazon for $6.20. A kosher chicken is already about double that, at $11.57 on MyKosherMarket.com. An Empire Kosher organic chicken goes for about $22 on FreshDirect. Broilers from KOL Foods and Grow & Behold weighing 4.5 pounds cost around $35 plus shipping. Then there's that heritage bird at $45.
"We're not able to service the mass, mass market," Hanau said. "Our products are more expensive." Kimelman-Block of KOL said she'd like to lower her prices but struggles to eke out a 10% profit margin as it is. "I'm working with small farmers, and I've got to give them a living wage," she said.
But while the companies seem to be winning the hearts and dollars of a healthy customer base, neither has a third-party auditor, leaving some skeptical of their claims.
"There is a great deal of talk about ethical behavior but not always ways to ascertain whether those standards are being achieved," said Rabbi Morris Allen of Mendota Heights, Minneapolis. Allen has tried, so far unsuccessfully, to launch his own certification, but despite working closely with both Kimelman-Block and Hanau it has yet to come to fruition, for reasons ranging from logistics to costs. Meanwhile, neither company has found another auditor willing to work with them, because most auditors require stunning animals before killing them. That's a deal breaker for kosher companies—Jewish laws require animals to be in full health before slaughter.
Both companies say they try to make sure workers are safe and practices are as environmentally responsible as possible. On farms, each said, the workers are usually family members, so they have little cause for concern, and at the processing plants they do their best to ensure proper treatment.
"We only work with plants that their bare minimum is above average," Hanau said. The red-meat slaughterhouse they use is a union shop, so health care, wages, disability, and workers compensation are fair, he said. His usual chicken processor isn't a unionized plant but pays above-average wages, provides health insurance, and observes holidays, he said.
Kimelman-Block said she personally calls the slaughterhouses she uses and asks them about their Occupational Safety and Health Administration reviews, as well as details like the breaks workers can take, average pay, and sick days—clearly more of a start than a solution.
"We sell our meat on our reputation," Hanau said. For now, that seems to be enough.
(
Corrects location of the Good Shepherd Poultry Ranch in paragraph 5 and spelling of KOL Foods CEO Devora Kimelman-Block's name in paragraph 8.
)
Before it's here, it's on the Bloomberg Terminal.
LEARN MORE