business
Putin, Abe Agree to Develop Islands Disputed Since World War II
By , , and
Cooperation plans to be governed by Russian law, Kremlin says

Russia, Japan to Form separate $1 billion investment fund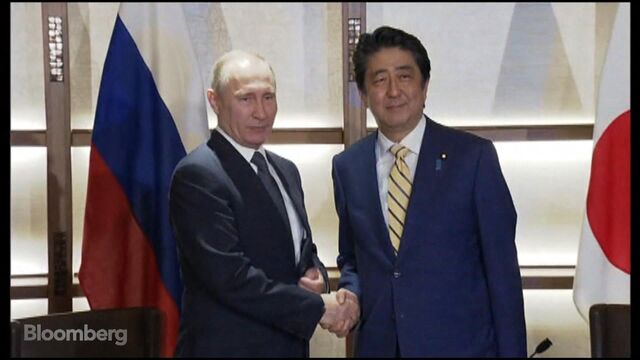 Japanese Prime Minister Shinzo Abe and Russian President Vladimir Putin are set to witness the signing of a raft of business agreements in Tokyo on Friday, after agreeing the previous day to seek economic cooperation on disputed islands.
QuickTake Territorial Disputes
In five hours of discussions at a hot-spring resort, the two leaders "talked about a special system for joint economic activity on the four islands and the peace treaty," Abe told reporters Thursday in Nagato, southwestern Japan. Disagreement over sovereignty of the four islands -- known as the Northern Territories in Japan and the Southern Kurils in Russia -- has prevented the two countries from signing an official peace treaty for seven decades.
Putin and Abe ordered their officials to start detailed negotiations on the terms and format for economic cooperation on the islands, Kremlin foreign policy aide Yuri Ushakov told reporters after the talks. The joint plans in areas including medicine, tourism and fisheries will be implemented on the basis of Russian legislation because the islands belong to Russia, he said.
The 16th summit between the pair comes at a crucial time for both countries. Russia has been starved for investment and trade amid low oil prices, and international sanctions over its actions in Ukraine. Japan is on a quest to diversify energy sources, with its nuclear power industry hobbled by the aftermath of the 2011 Fukushima disaster.
The deals to be signed on Friday include a $1 billion joint fund to invest in Russian projects including energy and infrastructure over the next three to five years, Kirill Dmitriev, chief executive office for the Russian Direct Investment Fund, told Bloomberg.
Abe and Putin are scheduled to hold a press conference in Tokyo on Friday after a working lunch. Later in the day, they will attend a Russia-Japan business forum and Putin will visit a judo center in the capital.
Late Arrival
"The atmosphere in the meeting was very good," Abe said. At the beginning of their discussions, he said he hoped Putin, who arrived several hours late for the talks, could relieve his fatigue by taking a soak in the hot spring. Putin thanked Abe, and said he hoped their meetings will contribute to the development of relations.
A key to improved ties is the sovereignty of the four islands that the Soviet Union invaded at the end of World War II, expelling all 17,000 Japanese residents. Japan's official position is that the islands -- home to rich fishing grounds -- are an inherent part of its territory and are under illegal occupation.
"We talked about freedom for the former islanders to visit their former homes," Abe said, adding that he'd handed Putin letters from some of them, including one written in Russian. "In the meeting I kept in my heart the feelings of the islanders whose average age is 81 and who don't have much time left."
Abe told a group of former islanders on Monday that he's determined to resolve the issue "within my generation." Putin has been more circumspect, telling Japanese media in an interview published Tuesday that the two countries can build trust through economic activities that cover the islands, and that talks on the dispute can't be limited by his or Abe's terms in office.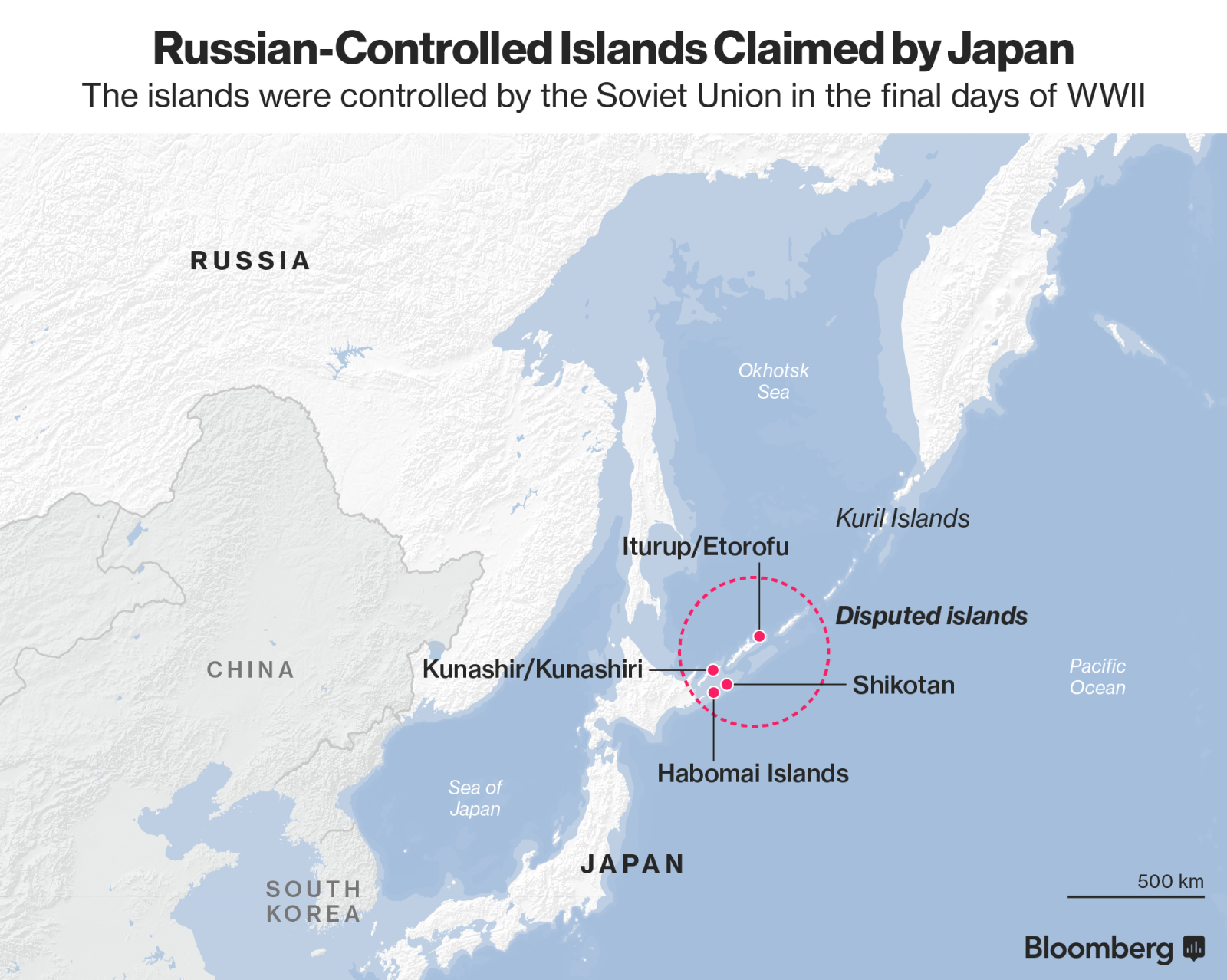 Russian Energy Minister Alexander Novak told reporters in Nagato on Thursday that 23 agreements and memorandums have been prepared between Russian and Japanese companies. The firms include Novatek PJSC, Rosneft PJSC, Gazprom PJSC on the Russian side, and Mitsui & Co., Marubeni Corp. and Tokyo Electric Power Co. Holdings Inc. in Japan.
The two countries are discussing 65 deals, spanning a range of sectors including energy, infrastructure and health care, Alexey Repik, chairman of the Russia-Japan Business Council said in an interview in Tokyo this week. Japanese investment in Russia rose by 51 percent in 2015, even as total foreign investment fell by more than 70 percent.
The two leaders also agreed Thursday on the need to re-start regular talks between their defense and foreign ministers.
— With assistance by Ilya Arkhipov
Before it's here, it's on the Bloomberg Terminal.
LEARN MORE