Paulson Advantage Said Paring Loss With Fannie-Freddie
By
Fund said to soar 9% in November, trimming 2016 decline to 16%

Partners merger strategy also rose; credit fund is bright spot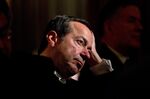 John Paulson trimmed the double-digit losses in one of his main hedge funds last month thanks to a stake in government-sponsored entities Fannie Mae and Freddie Mac that surged on the back of the U.S. presidential election.
 
Paulson & Co.'s Advantage fund, which wagers on companies going through corporate events, climbed 9 percent in November, paring this year's loss to 16 percent from more than 20 percent as of October, according to a person with knowledge of the matter. Paulson's Partners merger strategy rose slightly, bringing losses for the year to about 27 percent, said the person, who asked not to be named because results are private.
A bright spot for the firm is the Paulson credit fund, now its second-largest strategy. The fund gained about 11 percent this year through November, according to the person. A spokesman for New York-based Paulson declined to comment on the performance.
Paulson is headed for a third straight year of losses in his Advantage Fund, while the Partners fund is on the precipice of its worst year on record, according to investor documents seen by Bloomberg. He's struggled with uneven returns since his wager against U.S. housing in 2007 spurred a $15 billion windfall. Last year, he pledged his personal investments in four of his hedge funds as additional collateral for his firm's borrowings, after investment losses and client defections cut assets from a peak of $38 billion in 2011.
Government Grip
Paulson's losses are in contrast to his hedge-fund peers, who averaged about 9 percent returns across event-driven strategies in the first 11 months of 2016, according to Hedge Fund Research Inc.
Paulson, a political donor and economic adviser to the president-elect, is benefiting from bets that Donald Trump's arrival at the White House will end the government's grip on the U.S. mortgage giants. Shares of Fannie Mae and Freddie Mac -- which were once virtually worthless -- have more than doubled on speculation that some of the profits being sent to the U.S. Treasury may go to stockholders instead.
The mortgage companies were taken over by the government in 2008 at an eventual cost of $187.5 billion. The Barack Obama administration later changed the terms of the bailout so that the government received most of the companies' profits, and it's more than recouped the costs. Shareholders have been seeking redress in court, as well as working to change the policy and allow the companies to keep more of their earnings. Paulson has made donations supporting the policy effort.
— With assistance by Simone Foxman, and Matt Scully
(
Corrects to show Paulson isn't party to Fannie-Freddie lawsuits in last paragraph.
)
Before it's here, it's on the Bloomberg Terminal.
LEARN MORE