NAB Sends 60,000 Customers' Account Details to Incorrect E-Mail
By
Bank has contacted account holders to notify them: statement

Accounts opened through migrant banking team, NAB says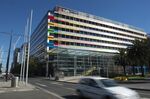 National Australia Bank Ltd., the country's fourth-largest lender, has written to 60,000 customers to notify them it erroneously sent details about the establishment of their accounts to an incorrect e-mail address.
The e-mail included customer information such as names, e-mail addresses and account numbers, though didn't include any passwords, Peter Coad, NAB executive general manager for international branches, said in a statement on the bank's website.
The accounts were established for customers through the bank's migrant banking team while they resided overseas, according to the statement. The error doesn't impact customers who set up an account in Australia, Coad said.
"The error was caused by human error and identified following our own internal checks and as soon as we realized what had happened we took action," Coad said in the statement. "We do not consider that customers need to take any action with their account."
The bank has have reviewed the accounts involved and hadn't found any unusual activity, Coad said. The lender will continue to monitor the accounts, he said.
The bank has notified regulators including the Office of the Australian Information Commissioner and the Australian Securities and Investments Commission.
Before it's here, it's on the Bloomberg Terminal.
LEARN MORE