Paschi Gets Approval to Extend Bond Swap Offer to Dec. 21
By
Bank will seek to exchange FRESH bonds at 23.2% of face value

Precautionary state intervention still likely: IMI analyst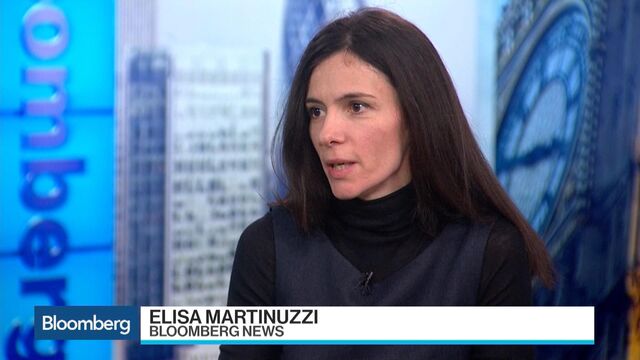 Banca Monte dei Paschi di Siena SpA received regulatory approval to extend and expand a debt-for-equity swap in a last-ditch effort to raise 5 billion euros ($5.2 billion) privately and avoid a state rescue.
The exchange offer will involve about 4.5 billion euros of Tier 1 and Tier 2 securities and will start Friday and run until 2 p.m. on Dec. 21, the Siena-based bank said in a statement. Monte Paschi, which faces a Dec. 31 deadline to complete the fundraising, will also promote a swap on 1 billion euros of hybrid securities issued in 2008 known as FRESH at 23.2 percent of face value, the lender said in a filing on its website.
Chief Executive Officer Marco Morelli, who took over in September, is racing to find backers for his effort to clean up the bank's balance sheet. The failure of the recapitalization would be a blow to Italy's sputtering efforts to revive a banking industry that's burdened with about 360 billion euros in troubled loans, dragging down the economy by limiting lending.
"We see a strong execution risk for the capital increase," Manuela Meroni, an analyst at Banca IMI SpA wrote in a note Friday. "The most likely scenario is that the Italian government may intervene in order to sustain MPS with a precautionary capital increase," with the bank's creditors sharing the cost, she said.
Italy's Monte Paschi Playbook Avoids EU Law's Sick Bank Strategy
The shares were up 0.8 percent after gaining as much as 4.9 percent earlier in the day. Monte Paschi has fallen 82 percent this year, giving the company a market value of 615 million euros, less than an eighth of what it's trying to raise from investors.
Monte Paschi aims to raise enough from the second bond conversion to get a commitment for about 1 billion euros from Qatar's sovereign wealth fund, while the banks advising the deal would place shares with investors in the market, according to people with knowledge of the matter.
Monte Paschi offered 100 percent of face value for junior Tier 2 notes and 85 percent for subordinated Tier 1 notes, the same terms put forward in a previous swap in which bondholders agreed to exchange about 1.02 billion euros of securities for shares. For the FRESH note, the lender expects acceptances equal to 35 percent of the total nominal value.
Paschi, which excluded the FRESH securities in the initial offer, decided to include them now, saying the chances of acceptance are "significantly" higher after concerns that the bank may need state aid caused values to fall.
Should the share offering succeed, 28 billion euros of soured loans would bundled into securities and sold to investors, removing them from Monte Paschi's balance sheet. The capital being raised would be used to cover the bank for losses it would book in selling the troubled loans. If the sale isn't successful, the conversions of debt to equity would be nullified.
If the private capital increase isn't successful, the bank would have to seek aid from the government. Under European banking rules, losses must be imposed on bondholders if taxpayer money is used. The state is discussing a so-called precautionary recapitalization that would potentially limit bondholder losses, according to people with knowledge of the matter.
The terms and the amount of stock to be sold to investors will depend on the results of the swap, the lender said. In the share sale, 35 percent will be offered to retail investors and 65 percent to institutional investors, including potential anchor investors. Existing shareholders will have first right of refusal to buy 30 percent of the offering reserved to retailers.
— With assistance by Francesca Cinelli
Before it's here, it's on the Bloomberg Terminal.
LEARN MORE