May Needs Bespoke Brexit Deal to Keep Britain Safe, Lords Say
By
House of Lords Committee says talks must prioritise security

U.K. needs to retain access to EU agencies and policing tools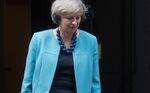 Brexit may put Britons' safety at risk unless Prime Minister Theresa May secures a bespoke agreement with the European Union to keep the closest possible police and security ties, U.K. lawmakers warned.
Britain must retain its access to EU agencies and tools such as Europol, Eurojust, the Schengen Information System, the European Criminal Records Information System and the European Arrest Warrant, all essential to U.K. law enforcement agencies, in order to maintain its current security standards, according to a report published Friday by the House of Lords EU Home Affairs Sub-Committee. While maintaining these ties was also in the interest of the bloc, it warned negotiations may be difficult.
"Protecting the lives of its citizens is the first duty of government and should be the overriding consideration during Brexit negotiations," the committee's chairman, Usha Prashar, said in a statement. "The common threats facing the UK and its neighbours require police and security cooperation to be sustained into the future."
May, who met EU counterparts in Brussels on Thursday, has so far remained tight-lipped about her plan to negotiate Britain's exit from the bloc, with formal talks currently scheduled to start after March. Senior ministers including Chancellor of the Exchequer Philip Hammond and Brexit Secretary David Davis suggested this week the U.K. could push for a transition period to ensure a smooth Brexit
Timeliness
It's unlikely the U.K. and the 27 remaining members of the EU can work together as closely as before after Britain's exit from the bloc, the report warned, stressing there was a risk new arrangements may not be as effective as the agreements currently in place. Should the U.K. lose access to EU policing databases, information that can currently be obtained within seconds or hours could instead take weeks to retrieve.
The committee warned the government they may face tensions in trying to achieve both taking back control of U.K. laws and maintaining strong security cooperation with the bloc, and said maintaining safety and security should be a focus of negotiations.
An agreement with Europol like those that other countries have negotiated outside the bloc, for example, wouldn't be enough to meet the U.K.'s needs, the report said. Access to data-sharing tools for law enforcement may also prove difficult to negotiate.
Before it's here, it's on the Bloomberg Terminal.
LEARN MORE