Low Inflation World Makes Mild Mexico Most Hawkish Central Bank
By and
Banxico seen raising rate in 2017 as peso weakness persists

Increases contrast with cuts in nations from Russia to Brazil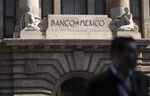 Currency shocks from the U.K.'s Brexit vote to Donald Trump's election led Mexico to raise its key interest rate more than any other major economy in 2016. Analysts expect more peso turbulence and higher borrowing costs in the year ahead.
Mexico raised its benchmark rate by half a point for the fifth time this year on Thursday to 5.75 percent. That brings the increases this year to 2.5 percentage point, the most among Group of 20 nations, and the competition isn't even close. South Africa, the next most aggressive at hiking rates, raised borrowing costs three quarters of a point, while monetary authorities in developing nations including Brazil, India and Russia cut rates.
Many of the world's central banks are leaving rates steady or reducing them amid slow inflation and low growth. While Mexico has experienced the same trend, its rate increases have been a reaction to unique circumstances -- the peso's tumble to a record low and the threat of faster inflation after Trump's U.S. campaign promise to end the trade deal between the two nations.
"Mexico is going to have an inflation rebound that puts pressure on the central bank to raise rates more than the Fed" in 2017, said Mario Correa, the chief Mexico economist at Bank of Nova Scotia and one of the few analysts to correctly predict Thursday's rate increase would be a half point rather than a quarter. With concerns in the U.S. and Europe persisting, "we have the cocktail for volatility in the peso for most of the year," he said.
Banco de Mexico's rate increases wouldn't be much of an outlier in some years; the U.S. and U.K. raised rates by more in the 1970s to tame double-digit inflation, and Russia raised rates by 11.5 percentage points in 2014 to shore up the ruble. Still, they're a departure from the more stable monetary policy decisions in the first six years under Governor Agustin Carstens. Policy makers left the rate unchanged from when he took the helm in 2010 until early 2013, when they began a series of reductions that they said would allow them to meet their 3 percent inflation goal at a lower cost to the economy.

Ricardo Medina, a spokesman for Mexico's central bank, declined to comment on speculation about policy makers' actions in the coming year.  
After spending 2015 signaling their intention to follow the Federal Reserve, Mexico's policy makers repeatedly acted alone this year, or in Thursday's case raised more than the Fed. While some economists expect Mexico to return to matching the Fed in increases next year, firms including Capital Economics see Mexico forced again to do more than the 0.75 percentage point increase that Fed board members are forecasting for the U.S.
Peso weakness will help lift inflation to almost 5 percent next year, a level last seen in the aftermath of the 2009 financial crisis, according to Scotiabank's Correa. He expects the central bank to raise borrowing costs 1.25 percentage point to 7 percent in 2017.
Mexico's Peso Problems Are a Warning Sign for Global Investors
Concern that Trump's trade agenda could keep the peso near record-low levels for the foreseeable future has led to a jump in inflation expectations at the same time that Mexico is raising its minimum wage and allowing gasoline costs to move freely, potentially pressuring consumer prices. The five-year breakeven rate, a bond market measure for cost-of-living expectations, has climbed above 4 percent from 3.2 percent before the U.S. election.

One counter-balance on rate increase pressures next year will be the likely slowdown in the Mexican economy given concern about changes in the nation's trade relationship with the U.S. and planned reductions in government spending, said Benito Berber, a senior economist at Nomura Holdings Inc. Mexico's economic growth is set to slow to 1.8 percent in 2017 from 2.1 percent this year, according to a Bloomberg survey, and the central bank said in its statement Thursday that the outlook for the economy has deteriorated.
"It doesn't put a firm lid, but it is a force that goes in the opposite direction of hiking rates," Berber said.
Before it's here, it's on the Bloomberg Terminal.
LEARN MORE