Fed Hike Puts U.S. Dollar on the Podium of G-10 High Yielders — and Could Push the Euro Below Parity
King Dollar takes the bronze.
By and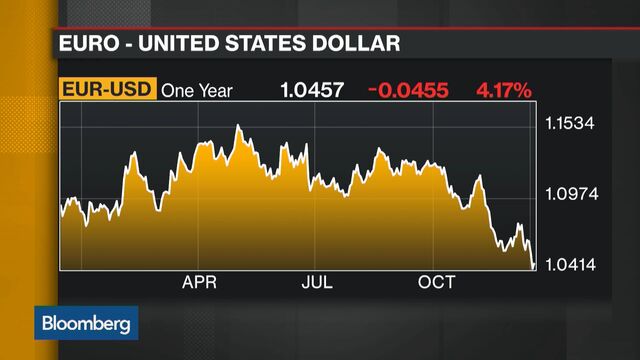 66 basis points is a much bigger number than it may seem at first blush.
So says Deutsche Bank AG Strategist George Saravelos (of "quantitative tightening" fame), who thinks the Federal Reserve's first interest rate hike in a year marked the start of a new regime for the U.S. dollar, and contained all the necessary ingredients to push the euro to well below parity versus the greenback next year.
Wednesday's rate hike propelled the effective federal funds rate to 66 basis points, moving it above the Bank of Canada's overnight rate for the first time since 2007, and leaving New Zealand and Australia as only two G-10 currencies whose central bank policy rates are above the U.S.'.
"Historically, it is not only the direction of U.S. yields that matters for the dollar but also the absolute level," Saravelos wrote in a note to clients on Friday. "When the USD joins the ranks of the high-yielders – defined as having at least the third highest central bank yield in the G-10 – it typically rallies very strongly."

"The last time this happened for more than a few months was in 1979 and 1997; the dollar rallied by 30 percent and 20 percent respectively," he added.

At the 5-, 10-, and 30-year maturities, U.S. Treasury yields also make the podium — that is, they rank in the top three highest-yielding among the world's 20 deepest sovereign bond markets.
The yield premiums at the long and short end have breached a threshold where they will continue to support portfolio flows that buoy the U.S. dollar even if these rate differentials versus other developed markets don't continue to widen, concludes Saravelos.
"Indeed, the break of EUR/USD parity back in the 2000s was accompanied by a narrowing, not widening in the E.U.-U.S. rate differential as portfolio flows flocked to the U.S. from Europe," he writes. Deutsche Bank expects the euro to sink to $0.95 in 2017.
Before it's here, it's on the Bloomberg Terminal.
LEARN MORE