ECB Warns Paschi on Post Referendum Liquidity in Stress Test
By
ECB cited liquidity in rejecting capital deadline extension

Direct funding fell by 6 billion euros end Sept. to Dec. 13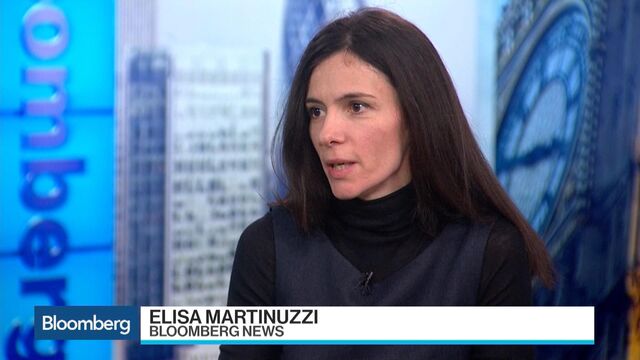 Banca Monte dei Paschi di Siena SpA said the European Central Bank rejected its request to extend a capital increase into January over concerns that the Italian lender's liquidity "is progressively deteriorating in the wake of the Dec. 4 referendum."
The ECB said that under a negative stress-test scenario, the Siena-based bank has "a 29-day time horizon" in which it can meet its liquidity needs without resorting to new intervention,'' according to an updated prospectus for its capital increase. The stress test scenario assumes a liquidity exit of 10.3 billion euros ($10.8 billion) within a month, according to the prospectus.
Chief Executive Officer Marco Morelli is racing to find backers for the reorganization that would clean up the bank's balance sheet with the disposal of 28 billion euros of soured loans. Monte Paschi suffered a blow last week when Prime Minister Matteo Renzi quit after losing a national referendum on constitutional reforms. His resignation clouded Italy's political outlook just as the troubled Italian bank was seeking to lure investors for its recapitalization.
Monte Paschi's direct funding fell by 6 billion euros from Sept. 30 to Dec. 13, a third of that came after Dec. 4, it said in the prospectus. The bank "cannot rule out that the outflow of funds can accelerate" due to uncertainty over the capital plan. Monte Paschi's liquidity coverage ratio fell to 120 percent as of Nov. 30 from a 153 percent at the end of September, the bank said. The minimum set by regulators is 70 percent.
'Downward Spiral'
"This news are adding pressure on the bank and can lead to a downward spiral," said Vincenzo Longo, a strategist for IG Markets Ltd. in Milan. "Concerns of deposits outflows may put pressure on clients to banks run, leading to self full-filling expectations."
After the ECB declined to extend the deadline, Monte Paschi decided to proceed with its 5 billion-euro capital raising plan this year, extending a debt-for-equity swap before proceeding with a share sale in the market.
Italian regulator Consob approved a plan to expand the swap and extend it to Dec. 21, the bank said on Friday. Monte Paschi, which faces a Dec. 31 deadline to complete its fundraising, will also promote a swap on 1 billion euros of hybrid securities issued in 2008 known as FRESH at 23.2 percent of face value, the lender said in a filing on its website.