Cathay Dragon Considers Replacing 23 Planes in Narrowbody Fleet
Bloomberg News
Cathay Pacific's sister airline makes request for proposal

Carrier doesn't specify which aircraft models it's considering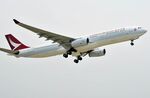 Cathay Dragon, the sister carrier of Hong Kong's Cathay Pacific Airways Ltd., is considering replacing all its 23 Airbus Group SE single-aisle jets as the airline proposes to modernize its narrowbody fleet.
The airline has initiated a so-called request for proposal as it seeks to upgrade its 15 A320 and eight A321 aircraft, it said in an e-mail Friday. The first of the new planes is expected to arrive by 2019, Cathay Dragon said, without specifying whether it's considering models from Airbus or Boeing Co.
The "process will allow us to explore the full range of products and options of various size and range that can complement the airline's fleet development needs," Cathay Dragon said.
The plan comes less than a month after the former Dragonair was officially rebranded Cathay Dragon, and follows Cathay Pacific's announcement in October that it was conducting a critical review of its business amid a deteriorating outlook. Yields at the airlines have fallen as Chinese carriers offer more direct services worldwide, making Cathay Pacific's Hong Kong hub less critical for travelers.
Cathay Dragon also operates 19 A330s and has a total fleet size of 42 aircraft, according to the e-mail. The South China Morning Post reported the fleet-replacement plan earlier.
— With assistance by Dong Lyu
Before it's here, it's on the Bloomberg Terminal.
LEARN MORE