Calm Breaks in Pre-Holiday Market as China News Hits Oil, Stocks
By and
Crude jumps on reports China's Navy seized a U.S. drone

Stocks dip, pull back to unchanged; Treasury yields fall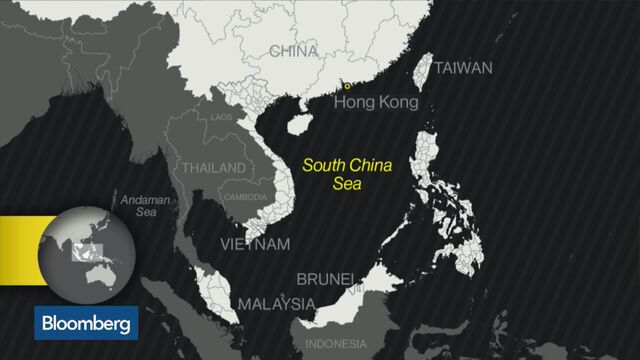 A sleepy December Friday turned lively in financial markets as reports China seized an unmanned U.S. vessel sent oil higher, bonds yields and the dollar lower, and rattled equities.
The yield on 10-year Treasuries fell as much as five basis points and gold futures spiked as investors sought safety assets. Crude jumped more than 1 percent, briefly topping $52 a barrel in New York, as a rise in maritime tensions could crimp deliveries. U.S. equities erased 0.4 percent from session highs, and the dollar retreated versus its major peers. Soybean futures erased losses on the news.

On a day when the only semblance of drama was whether the Dow Jones Industrial Average would get to 20,000, traders were jarred from their seats as geopolitical tensions surfaced anew. The headlines spurred a rare bout of volatility in markets that have gone close to straight up since Donald Trump's election, complicating the S&P 500 Index's quest for its ninth gain 11 days.
"The market has been in its own little world and I think we're going to hear more about this, the market's been overlooking it a little bit," Michael Block, chief strategist at Rhino Trading Partners LLC in New York, said by phone. "We're assuming trade and all that is going to go in our favor but feathers are going to be ruffled and it's not a linear process. It should be good but there are a lot of geopolitical risks."
Tensions between the U.S. and China have risen in recent weeks after President-elect Donald Trump broke a decades-old policy of not formally recognizing Taiwan's government and suggested the long-standing OneChina policy can be used a bargaining chip in trade talks. China views Taiwan as a renegade province and further recognition by the U.S. would likely elicit an immediate and forceful response and endanger a two-way trade relationship that reached $627 billion in 2015.
"There's been some discontent between China-U.S. relations ever since Trump was elected -- things have soured quite significantly," said Tom di Galoma, managing director of government trading and strategy at Seaport Global Holdings in New York. "I don't necessarily think Obama will do much about it, but maybe we get some kind of tweet out of president-elect Trump."
Before it's here, it's on the Bloomberg Terminal.
LEARN MORE