Who Cares About the Fed? Not the World's Biggest Bond Fund
By
Vanguard money manager Josh Barrickman relaxed on higher rates

Total Bond Market Index Fund began trading in December 1986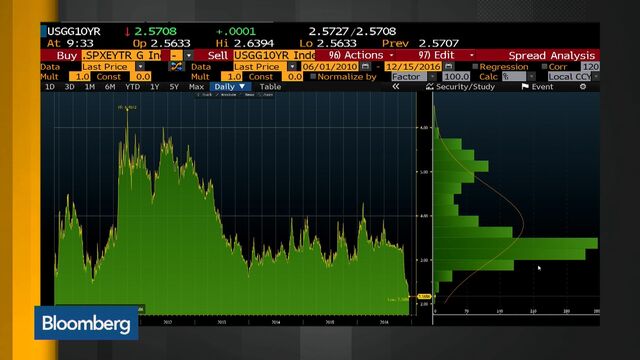 After 30 years of trading and collecting $172 billion of assets in the process, it'll take more than this week's U.S. rate increase to derail the world's largest debt fund.
Vanguard's Total Bond Market Index Fund has weathered storms far worse than rising interest rates -- from the savings and loan debacle in the late 1980s and the tech bubble a decade later to the subprime housing collapse and sovereign debt crisis of the last 10 years. The fund has gained 6 percent annually on average since it began in 1986, and Josh Barrickman, the money manager who's shepherded the fund through the last three years, is optimistic about the future.
"As long as rates aren't moving drastically in a very short time-frame, the market will find its equilibrium," Barrickman said before the Federal Reserve's decision on Wednesday to raise rates for the first time in 2016. "You're seeing some clients who are saying 'you know what, I never saw rates going up, I want to get out of bond exposure,' and then you're seeing some who are saying 'this is the opportunity I've been waiting for.'"
Barrickman's secret? There isn't one. The manager, who was 11 years old when Vanguard began offering the fund on Dec. 11, 1986, tracks the performance of more than 10,000 securities found in the Bloomberg Barclays U.S. Aggregate Bond Index. Those bonds range from Treasuries and asset-backed notes to corporate debt issued by the likes of Apple Inc. and Exxon Mobil Corp. It bought its oldest asset, an 8 percent Federal National Mortgage Association bond, in 1987.
Bond Rout
The Fed added 25 basis points to the benchmark borrowing rate on Wednesday, lifting the Federal Funds Target Rate to the highest since 2008.
Expectations for higher interest rates have climbed following Donald Trump's election win, as investors bet fiscal stimulus from the new president will revive inflation and encourage tighter monetary policy. That saw more than $450 billion wiped off the value of the U.S. Aggregate Bond Index last month, the most on record.
Higher borrowing costs are likely to send bond yields higher and values lower, hurting returns. The Vanguard fund has fallen 3.5 percent in the last three months, trailing its peers and lagging slightly behind the index it tracks.
The fund seeks to match the index's returns by buying a sample of the securities in it. While regulations allow it to allocate up to 20 percent of its assets away from the benchmark and Barrickman does over- or under-weight specific bonds, he limits such moves to minimize tracking error.
"To the extent that rates go up, as long as you have the right investment horizon and the right product you should actually be better off," Barrickman said. "The fund's been through a lot of different market environments, but it's really made us better managers."