Photographer: Qilai Shen/Bloomberg
Stranger Things Are Going Into China's Overseas Shopping Basket
by
Debut buyers announce a record $72 billion of overseas deals

UBS sees higher reverse break fees, smaller takeovers in 2017
The longer China's record-breaking foreign acquisition spree lasts, the stranger the deals seem to get.
In February, one of the nation's little-known property developers agreed to buy Chicago's 134-year-old stock exchange. In March, a money-losing iron ore producer announced the $300 million purchase of a U.K. computer-game developer. And last month, an obscure copper wire maker said it's taking over a Hollywood movie studio. The latter two acquirers were engaged in their inaugural cross-border deals, part of the record $72 billion in debut overseas acquisitions announced by Chinese firms this year through November.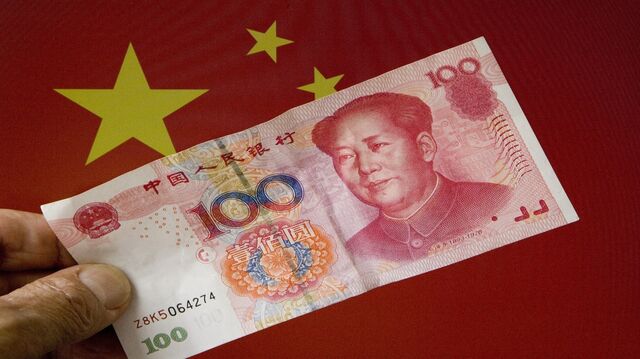 It's no wonder the country's regulators are getting concerned. This month, Chinese agencies including the National Development and Reform Commission said they're closely watching "irrational" outbound purchases in sectors including entertainment and real estate, without naming specific deals. The heightened scrutiny coincides with a broader government effort to limit capital outflows, posing a risk to global takeover volumes after Chinese firms began rivaling their U.S. counterparts as the biggest buyers of overseas assets this year.
For the Wall Street bankers helping to sell Western companies, the changing regulatory environment could make a delicate balance even trickier. Advisers need to court a widening pool of Chinese acquirers while at the same time making sure the companies are savvy enough to complete their deals.
"The M&A landscape has shifted focus to Chinese buyers," said Brian Gu, co-head of Asia Pacific mergers and acquisitions at JPMorgan Chase & Co., the top-ranked adviser on Chinese outbound acquisitions tracked by Bloomberg this year. "How to solicit credible potential Chinese buyers now becomes an essential part of a pitch for any global sell-side mandates."

More than 360 Chinese companies announced their first cross-border acquisitions in the initial 11 months of this year, with the combined size of the transactions more than doubling from the full year 2015, according to data compiled by Bloomberg.
Sifting through those new ranks of Chinese acquirers takes some work. When EQT Partners AB decided to sell Germany's EEW Energy from Waste GmbH, its bankers at Morgan Stanley arranged for executives to meet potential buyers in Shanghai, Beijing and Hong Kong weeks before it began soliciting bids. 
So-called "pre-marketing" trips to China, rarely used five years ago, are becoming increasingly common, said James Tam, co-head of Asia Pacific mergers and acquisitions at Morgan Stanley, which ranked sixth among Western banks for advising on outbound China deals this year. The visit allows interested parties to better understand the target company, while also helping advisers filter suitors before a sale process is formally launched, according to Tam. 
EEW's meetings helped draw 20 Chinese bidders in the initial auction, he said. The company was eventually sold to Beijing Enterprises Holdings Ltd., an experienced dealmaker that had an existing waste-treatment business, for 1.44 billion euros ($1.53 billion) in a deal announced in February. 
Oscar-Winning Film
The synergies from some of this year's other Chinese acquisitions have been less obvious.
Anhui Xinke New Materials Co. got less than 7 percent of its annual sales from the entertainment industry before it agreed to take over Voltage Pictures LLC, producer of the Oscar-winning film "The Hurt Locker." Anhui Xinke has said the deal will help it diversify away from a core business hurt by volatile commodity prices. Shandong Hongda Mining Co. gave a similar rationale when announcing its takeover of Jagex Ltd., the developer of hit online role playing game "RuneScape."
While Chongqing Casin Enterprise Group had no apparent ties to the securities industry before bidding for the Chicago bourse, it wants to turn the venue into a place for Chinese companies to list. If the sale succeeds, it would be the first time a company from Asia's largest economy has taken control of a U.S. exchange operator.
A representative for Anhui Xinke declined to comment. Shandong Hongda and Chongqing Casin didn't respond to phone calls and e-mails seeking comment. 

Seeking deals outside their core business has been a common theme for Chinese buyers this year. Tianjin Tianhai Investment Co., a container shipper, splashed out $6 billion for U.S. software distributor Ingram Micro Inc. in February. Jangho Group Co., a Shanghai-listed curtain wall manufacturer, has been building a stake in Sydney-based medical provider Primary Health Care Ltd. since March. 
Tianjin Tianhai's biggest shareholder, HNA Group Co., has said the Ingram Micro deal would help the group gain access to emerging markets. A representative for Tianjin Tianhai said the purchase will help the company to improve and transform, without elaborating further. Jangho said in February that health care is a high-growth sector that will help make up for weakness in its main business. The company's investor-relations department didn't respond to further queries.
While Chinese policy makers have been supportive of outbound acquisitions that help domestic companies gain foreign technology and strengthen industries seen as important drivers of economic growth, the worry is that some deals are being used as a way to move money offshore or make quick profits by re-listing acquired businesses at higher valuations in China.
"Some of these companies invest outside of their core competency because they want to get money out of China, as they see the Chinese yuan will continue to depreciate," said Christopher Balding, a professor at Peking University's HSBC Business School in Shenzhen, without naming any specific deals. "They may risk wildly overpaying as they may not understand the overseas markets nor the new industry very well."
The Chinese currency has fallen 6.6 percent against the U.S. dollar this year.
Smaller Deals
China is concerned about risks in certain types of outbound investments and will tighten supervision of foreign dealmaking, according to the transcript of a Dec. 6 press conference held by four government agencies. Regulators plan to generally bar billion-dollar deals outside a buyer's core business and pay extra attention to acquisitions by firms that are highly leveraged or have poor returns, people with knowledge of the matter said last month. 
The restrictions will probably factor into future deal negotiations, according to Samson Lo, head of Asia mergers and acquisitions at UBS Group AG, the third-ranked adviser on Chinese outbound deals this year.
Sellers may begin asking Chinese suitors to agree to higher reverse termination fees to compensate for the risk of an acquisition falling apart, and partnerships with other strategic investors or private equity firms could become more common, Lo said. China's overseas purchases in 2017 are likely to range between $1 billion and $5 billion, with no megadeals similar to this year's record $43 billion purchase of Swiss pesticide maker Syngenta AG by China National Chemical Corp., according to Lo.

"There is an increased focus to make sure companies pursue acquisitions that are strategic," he said. "It is reining in deals that aren't in the right sectors."
Before it's here, it's on the Bloomberg Terminal.
LEARN MORE