Merkel Stands By Greece as Tsipras Faces German Fiscal Critics
By and
Chancellor, Greek premier hold talks amid spat with creditors

Greek spending bill raises objections by creditors, Germans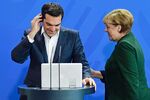 German Chancellor Angela Merkel renewed her pledge to help Greece deal with migration, steering clear of Prime Minister Alexis Tsipras's latest spat with bailout creditors as the two leaders held talks in Berlin.
Hosting Tsipras hours after they met at a European Union summit in Brussels, Merkel told reporters on Friday that Greece is "going through a phase that isn't easy" and the two countries share the goal of protecting the EU's outer border after last year's refugee crisis. Tsipras said Greece, which set off the euro area's debt crisis in 2010, can't be allowed to slip back into uncertainty.

As Tsipras's spending on social programs raises questions in Germany and among creditors about Greece's commitment to its bailout terms, the Greek premier called for "brave decisions by all partners" to show investors "that the crisis is over." Merkel, standing alongside Tsipras, signaled she'll raise the matter while sticking to her stance of leaving the detailed talks to finance officials.
"This is not the place where decisions will be made," Merkel said. "That matter is in good hands with the institutions and the Eurogroup. But the Greek prime minister's assessment of the situation will surely be part of our talks."
A day earlier, lawmakers in Athens passed Tsipras's plan to extend a one-time benefit to low-income pensioners and delay a scheduled sales-tax increase for Greek islands affected by the refugee crisis. Bailout auditors responded by raising "significant concerns on both process and substance."
A Greek government official told reporters in Brussels that Tsipras doesn't expect the spat with creditors to sour the atmosphere with Merkel, since their relationship has always been harmonious.
"Our talks haven't always been easy, but they've always been honest and sincere," Merkel said, wishing Tsipras a merry Christmas and "good start into the new year" before they headed off into their meeting.
Bonds Decline
Greek bonds and stocks fell on Wednesday after the German Finance Ministry accused the government of taking one-sided steps, and the euro area's crisis fund put debt-relief measures decided this month on temporary hold.
Yet Tsipras may have dodged the bullet, as an assessment of his measures by creditor institutions stopped short of concluding the Greek program is going off track. Handing out benefits in the face of resistance by creditors is likely to earn him a brief respite as polls indicate a collapse of support for him and his governing coalition.
Progress with the implementation of Greece's program has had beneficial effects that "enhance the prospect of an economic recovery and a definitive exit from the crisis" and "under no circumstances should this progress be halted," the Bank of Greece said in a report Friday. "Any differences must be worked out at the negotiations table, in a genuine spirit of cooperation with the institutions and our partners," the central bank said.

Following a roller-coaster ride, Greek stocks have pared most of this year's losses. The Athens Stock Exchange on Thursday closed 2.8 percent below its level at the start of 2016. Greek bonds have rebounded amid expectations that limited debt relief will pave the way for their inclusion in the European Central Bank's asset-purchase program. A weighted index of Greek notes has gained 14.4 percent this year, more than any other sovereign security tracked by Bloomberg's World Bond Indexes.
Merkel, 62, has spent considerable political capital to keep Greece in the euro by backing its three bailouts. While she hasn't commented on Tsipras's spending plans, other critics entered the fray. The Greek government apparently doesn't understand that it needs to reduce debt and refrain from "Christmas presents" for its citizens, Markus Soeder, a member of Bavaria's governing CSU party, which is allied with Merkel, told the Sunday newspaper Bild am Sonntag.
— With assistance by Nikos Chrysoloras, and Paul Tugwell
Before it's here, it's on the Bloomberg Terminal.
LEARN MORE