The Fed Sequel Beats Original: Two Hikes in Three Charts
Why this hike set off a bigger immediate reaction in currencies than last year's
by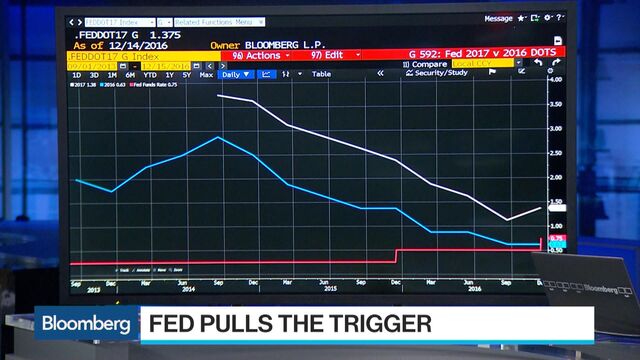 What a difference a year makes. 

The Federal Reserve's decision to raise its key interest rate Wednesday set off a much stronger reaction than last December, when it made the same move. Bloomberg's Dollar Spot Index surged 1.1 percent by the end of the day, contrasting with a paltry 0.02 percent uptick on Dec. 16, 2015. 


The difference lies in the Fed's dot plot -- a chart of where policy makers see the target rate going in the future. This time, they signaled a more aggressive stance toward the longer-term outlook for the first time since they introduced the chart projections in 2012.


``They raised the longer run 'dot plot' for the first time after what seemed to be an inexorable decline,'' said Robert Rennie, head of market strategy at Westpac Banking Corp. in Sydney. ``The dollar likes it; bonds do not.''

Currency and bond markets had become so used to dovish surprises from the Fed that even a mildly hawkish shift was enough to cause some whiplash. After all, the greenback slid Monday by the most in 2 1/2 months, and it was down on Wednesday before the Fed.

Even so, compared with last year, the dollar had more speculative momentum in its favor going into the Fed meeting. Net dollar longs that had built up rapidly in November 2015 were scaled back ahead of the rate hike. This year, a more modest build-up began in November but persisted into December, reflecting greater confidence in the dollar rally.


Those bets on the dollar could build with a more aggressive Fed.  Krishna Guha, the vice chairman of Evercore ISI in Washington who previously worked at the New York Fed, says the central bank's clearly hawkish turn is a  "a recipe for more dollar strength.'' 

Rennie at Westpac also sees a sustainable rally.
``Markets don't like fatter, longer tails, and we got them in the Fed projections for 2018-19,'' Rennie said. ``The dollar should remain well supported into year's end.''




Before it's here, it's on the Bloomberg Terminal.
LEARN MORE