South Korea Tries to Rein in Its Corporate Elite
Legislators probe graft among the huge conglomerates who some say run the country.
By , , , , and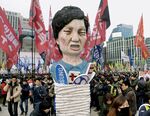 Even before South Korean prosecutors tied the chaebol to the influence-peddling scandal that culminated with the Dec. 9 impeachment of President Park Geun-hye, 2016 was a year to forget for the conglomerates that dominate the economy. The country's biggest container line, Hanjin Shipping, filed for bankruptcy protection in August, stranding an estimated $14 billion of goods at sea. The top automaker, Hyundai Motor, suffered 3 trillion won ($2.6 billion) in lost production from labor disputes, including a three-week wage strike in September and October. Prosecutors in October indicted five members of retail giant Lotte Group's founding family, including Chairman Shin Dong-bin, on charges including tax evasion and embezzlement. In the most embarrassing setback, mighty Samsung Electronics in October killed its Note 7 smartphone after the handsets kept exploding or catching fire. Samsung says the debacle will cost Korea's premier chaebol more than $5 billion.
Then came the news about chaebol favors for Park confidante Choi Soon-sil, including tens of millions of dollars in donations to her foundations. On Dec. 6 lawmakers summoned the heads of nine conglomerates to testify about alleged corruption among the political and business elite. None of the nine groups has been charged with wrongdoing. The testimony has released the pent-up anger of a population struggling with the transition to a slow-growth era.
Economists expect South Korean gross domestic product this year to expand 2.7 percent, marking the first five-year period with growth below 3.5 percent since the 1950s. Manufacturers are suffering from the slowdown in China, South Korea's top export market, and soft demand elsewhere. Export growth has declined in 21 of the past 23 months. Youth unemployment is 9.3 percent, in part because rigid labor laws discourage employers from hiring young graduates. "Without some serious restructuring," says Emily Dabbs, an economist for Moody's Analytics in Sydney, the outlook "is going to be quite weak."
Koreans are struggling to boost their living standard—despite clocking an average of 2,113 hours on the job last year, behind only Mexico among Organization for Economic Cooperation and Development countries. Monthly household incomes for urban salary and wage earners grew 1.7 percent in the third quarter from a year earlier. As recently as 2012, income growth regularly topped 5 percent. Many jobs are low-paying temporary positions without the insurance, pensions, and other benefits regular workers enjoy. Temporary employees, who make up one-third of the workforce, earn on average about 41 percent of what a full-fledged employee does. "In Korea, many nonregular workers or in-house subcontract workers find themselves in a no-man's-land," according to an OECD report published in July, "holding jobs that are in practice neither well-protected by labour laws nor by social protection schemes."
The confluence of business failures, political scandal, economic malaise, and the emergence of a more cynical generation threatens to upend a system that made South Korea a global industrial powerhouse. Since the end of military rule in the late 1980s, an unwritten social compact has allowed corruption among the political and corporate elite as long as ordinary Koreans enjoyed solid economic growth. As the economy matures and inequality grows, that deal is fraying. "The back-scratching alliance of the government and businesses" needs to end, says Lim Jin-hui, a 19-year-old student at Dongguk University in Seoul who joined an anti-Park protest before the Dec. 9 impeachment vote. "This cozy relationship must stop."
Older Koreans are joining young adult activists demanding more accountability. "Some of the chaebol executives should go to jail and be punished," says software engineer Cho Pum-suk, 38, who marched with Lim and hundreds of thousands of other Koreans in protests.
Emboldened by their victory over Park, members of the opposition People's Party are promising not to stop with impeachment, saying reform must include measures to reduce the influence of the chaebol. National Assembly members have said they intend to question chaebol executives about controversial government decisions such as the awarding of duty-free retail licenses to several chaebol affiliates.
More scrutiny will follow, with the People's Party proposing limits on the cross-shareholding structures that allow chaebol to maintain control of the component companies in their sprawling empires. Impeachment "will open a new era for Korea, an era where chaebol-politician ties are cut," said Park Jie-won, the party's floor leader in the National Assembly, on the day Park was ousted.
The families in charge of the chaebol managed to survive earlier storms. The Constitutional Court of Korea has up to six months to rule on the National Assembly's decision to impeach Park; corporate executives are hoping populist anger against them will subside if she leaves office before her term expires in 2018. "These companies and their leaders know if they keep their heads down for a little bit, it's very hard to dislodge them," says David Kang, director of the Korean Studies Institute at the University of Southern California. The chaebol know how to play tough: They "operate basically like they are gangsters," Chu Jin-hyung, former chief executive officer of Hanwha Investment & Securities, told lawmakers. "Whoever goes against their wishes, they punish that person to make sure others follow their orders."
The renewed skepticism about the chaebol could yet lead to greater support for reforms to provide more rights to minority shareholders in chaebol-affiliated companies; discourage the conglomerates from hoarding cash; and limit their ability to invest in noncore businesses. The impact of such reform would be as big as the transition to democracy in the late 1980s, says Paul Choi, head of research for CLSA Securities Korea. "Most people want to end the collusion between politics and chaebol," he says.
With presidential elections likely next year, the conglomerates face one of their most challenging political environments. Chaebol reforms, according to Park Sanghyun, an analyst for research firm Smartkarma, "will get a lot of public support in the next 12 months."
The bottom line: The collusion between politicians and the chaebol in South Korea may come to an end in the wake of President Park's impeachment.
Before it's here, it's on the Bloomberg Terminal.
LEARN MORE