Putin's Loudest Critic to Challenge Him. The Kremlin's Happy
by , , and
Navalny, 40-year-old lawyer, plans presidential bid in 2018

Popular opposition figure would liven up lackluster campaign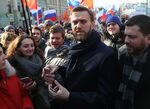 A political outsider may be able to storm into the White House -- but not Vladimir Putin's Kremlin.
So tight is Putin's grip on Russia that the biggest concern about the 2018 election -- when the former KGB colonel is widely expected to seek a final six-year term allowed under the Constitution -- is a lack of competition.
Putin, 64, has foiled efforts to establish a credible opposition for 17 years and now must consider whether to let one of his most vocal critics, anti-graft crusader Alexey Navalny, challenge him for the presidency. The opposition politician's participation could help legitimize the outcome, said a person involved in Kremlin discussions, who spoke on condition of anonymity.
Navalny, who helped lead the biggest protests of Putin's rule amid allegations of vote-rigging in the parliamentary vote five years ago, announced his candidacy this week. The 40-year-old lawyer said he has no illusions about his chances even if he clears several legal and bureaucratic hurdles to make it onto the ballot.
"I don't have the slightest doubt that if, theoretically, I had equal access to the media and resources, I would win this campaign," Navalny said in an interview at his foundation in central Moscow on Wednesday. "But I'm not naive, I understand the way things work. Nonetheless I'll fight for victory."
80% Approval
With Putin's approval rating hovering near 80 percent since the annexation of Crimea in 2014, few doubt the president will win re-election once he officially declares his candidacy. But giving the opposition's most effective voice a national platform could backfire, particularly at a time of a surge in populism around the world, according to Gleb Pavlovsky, who advised Putin during his first term and now heads a Moscow-based research group.
"It's a real risk if Navalny participates," Pavlovsky said. "Competing against populists has been well-known for its uncertain outcome long before Donald Trump arrived on the scene."
Navalny, who's used his whistle-blower website to help uncover a string of embarrassing stories about the lavish lifestyles of Putin's inner circle, said it's impossible to have a fair election in a country where all major media outlets are controlled by the state and the ruling elite wields vast administrative resources.
"The main task is just to get on the ballot," he said.
Mayoral Race
Navalny almost forced a run-off against Putin's handpicked candidate, Sergei Sobyanin, in the Moscow mayor's race in 2013, winning 27 percent of vote. He claims the ballot was rigged to push Sobyanin's tally to just above 50 percent.
An early test of Putin's intentions will come when a court in central Russia rules on Navalny's retrial on fraud charges. The Supreme Court overturned his conviction after the European Court of Human Rights ruled he didn't get a fair hearing. He'd be barred from running for office if found guilty again.
And even if Navalny clears that barrier, he'd face an uphill struggle. To get on the presidential ballot he need to collect a total of 300,000 signatures from at least 40 regions of the world's largest country.
An influential blogger who has 1.73 million followers on Twitter and whose online corruption exposes get millions of viewers, Navalny's already preparing the groundwork by setting up a campaign website. It can accept small individual donations from the public, much like Democratic candidate Bernie Sanders, a politician Navalny said he admires, as he does Trump. He's aiming to raise 1 billion rubles ($16 million).
Konstantin Kostin, who ran the Kremlin's powerful internal politics department during the last presidential elections in 2012, said Putin has nothing to fear from a politician who lacks a nationwide network of supporters.
'A Joke'
"The idea that Navalny represents some kind of risk for Putin and could provoke a second round, is just a joke," Kostin said. The "elections are not a topic on the current agenda" of the Kremlin, Putin's spokesman Dmitry Peskov said by phone Dec. 13, declining to comment on Navalny's prospects as a presidential candidate.
Navalny dismissed critics who say he'd actually help the Kremlin by running for president, saying he's devoted to securing democratic change, even though it looks like Putin will stay in power "for a pretty long time."
A rare opposition voice in the last parliament who failed to win re-election in September, Dmitry Gudkov, said the interests of Putin and his nemesis Navalny have finally converged.
"This is a win-win situation," Gudkov said. "The authorities have a real problem with legitimacy. Political competition is always useful. It bolsters civil society."
Before it's here, it's on the Bloomberg Terminal.
LEARN MORE