markets
Mexico Raises Rate More Than Expected as Peso Lags at Record
By and
Carstens said Dec. 2 he's ready to hike if CPI bets stay high

Banxico increase is fifth time in 2016, most for any year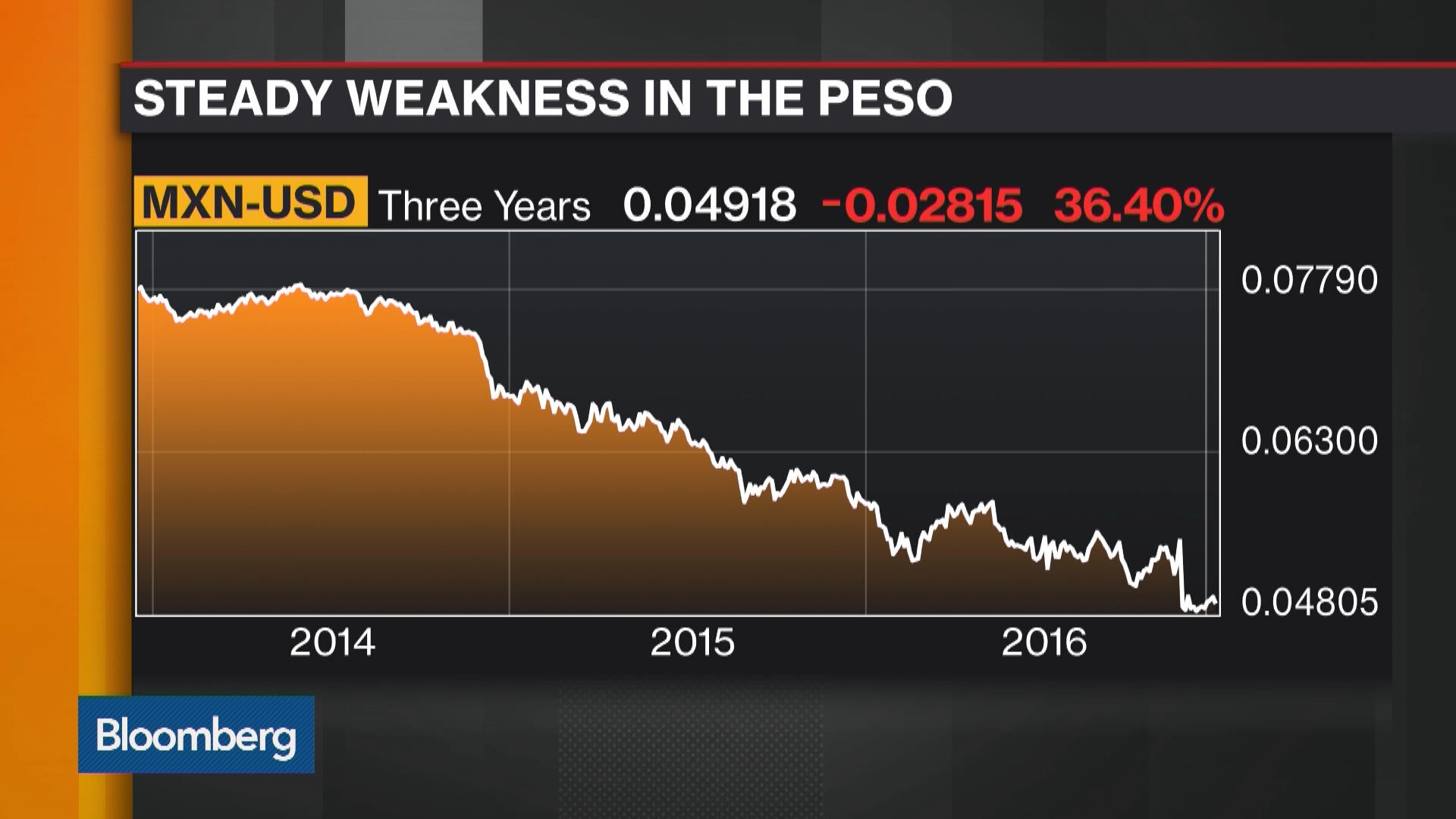 Mexico's central bank raised borrowing costs more than economists expected as policy makers look to jolt the peso from near record lows, saying rate increases this year will help inflation return to target.
Banco de Mexico, headed by Governor Agustin Carstens, increased the key rate by half a point to 5.75 percent. Only eight of 26 economists surveyed by Bloomberg beforehand expected a half-point increase, while 17 expected a quarter-point hike, and only one saw rates on hold. The peso erased losses and strengthened 0.4 percent to 20.3967 per dollar at 1:30 p.m. in Mexico City.
Banxico surprised traders and analysts by outpacing the Federal Reserve's quarter-point hike yesterday, despite repeatedly saying it preferred to follow the Fed. It's not the first time Carstens has broken with the Fed, hiking a total of five times this year in efforts to shore up the peso and prevent capital outflows. That task has become more difficult after Donald Trump's election drove Mexico's currency to more than 20 per dollar for the first time since 1993, lifting inflation bets far above the 3 percent target as economists see more pass-through to prices.

"Any further sharp depreciation of the peso will be likely faced with more 50 basis-point hikes, " said Carlos Capistran, the chief Mexico economist at Bank of America Corp."Monetary policy continues to be conditional on the peso and its potential impact on inflation expectations."
 
In raising its rates, the Fed forecast a steeper path for borrowing costs in 2017 of three projected hikes as inflation expectations increased. In Mexico, bets for inflation have soared from record lows, reaching as high as 4.8 percent for year-end 2017, according to economists at Citibanamex.
Banxico said in its statement that while the inflation outlook has worsened, it sees price increases quickening temporarily in coming months and finishing 2017 within the 2 percent to 4 percent target range. Inflation will return toward the target in 2018, the bank said.
"The effects of the increases in the reference rate throughout 2016, which have significantly widened the rate differential with respect to the U.S., will be fully reflected in the economy during the next year," said he central bank board in the statement accompanying its decision. "They'll continue contributing to price growth returning to a downward trend, converging on the 3 percent goal in 2018."
See more: Banxico chief discusses his willingness to raise the key rate
Carstens said in a Dec. 2 interview he's "absolutely" prepared to raise rates if expectations remain high.
Hiking more than expected "may just create further anxiety among investors" about how high the rate will go, Alonso Cervera, chief Latin America economist at Credit Suisse Group AG, said before the decision. This could prompt bondholders to aggressively shift from longer-term bonds to shorter-term bonds, where they can get a high yield for less risk, Cervera said.
Inflation has remained near the 3 percent target for almost two years now, but faces increasing risks of pass-through from the peso in 2017. The currency plunged as much as 12 percent the night of the U.S. election to more than 20 per dollar and has remained near record lows. But other factors are also clouding the outlook, including the liberalization of gasoline prices from state control and a 9.6 percent minimum wage increase.
The central bank is "a bit worried about inflation expectations," Benito Berber, senior economist for Latin America at Nomura Holdings Inc., said before the decision. It "clearly wants to be ahead of the curve."
'Difficult Year'
Berber said at least one of the three top rating companies will probably downgrade Mexico's credit rating after all of them put the nation on negative watch.
And if a renegotiation of the North American Free Trade Agreement with the U.S. and Canada pledged by Trump is drawn out, that could hurt domestic investment and foreign direct investment, pressuring growth, he said. Mexico's economy is already set to slow to 1.8 percent in 2017 from 2.1 percent this year, according to a Bloomberg survey, while BlackRock Inc. sees growth as low as 1 percent.
"It's going to be a very difficult year for policy makers," Berber said. "The central bank will have to navigate a lot of different shocks, external and internal, amid a transition of the head of the board." Carstens announced he's leaving Banxico to lead the Bank for International Settlements in July 2017.
— With assistance by Rafael Gayol
(
Updates to add Banxico comment in first, sixth and seventh paragraphs.
)
Before it's here, it's on the Bloomberg Terminal.
LEARN MORE