Le Pen No Trump for Local Buyers of France's Government Bonds
By and
Selloff by foreign holders offset as domestic buyers step in

Foreign investors hold 60 percent of French government debt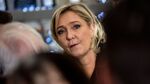 After Donald Trump, Marine Le Pen?
Concern that the populist politician could achieve a Trump-like upset in France's 2017 presidential election rattled foreign holders of the country's debt. They should relax, say domestic buyers, who've been loading up on their nation's bonds.
"Since the election of Trump, non-residents have been selling French bonds," said Isabelle Mateos Y Lago, global macro strategist at BlackRock Investment Institute in Paris. ''We think the reaction is exaggerated, that investors are over-estimating the risks."
Trump's surprise victory on Nov. 8 triggered an increase in bond yields around the world. The jump in French borrowing costs outpaced their German equivalents, reflecting concern that the anti-euro National Front's Le Pen could win power and undermine French economic stability as well as the future of the common currency. 
That worry has abated after two of France's most unpopular leaders exited the 2017 race -- President Francois Hollande, who said he won't seek a second term, and former President Nicolas Sarkozy, who was ousted in his party's primary.
The extra yield demanded by investors to hold French 10-year bonds instead of comparable German debt, which rose to 56 basis points on Nov. 28, -- its highest since March 2014 -- has since fallen to about 42 basis points. France pays 0.7 percent to borrow over 10 years.

Wider Spreads
"Speculators have acted on electoral concerns created by the context around Trump's win and that led to wider spreads," said Olivier de Larouziere, Natixis Asset Management's managing director for euro interest rates. "They're playing on fears," he said, adding that "on the cash bonds we see underlying support from locals."
Le Pen, who wants to take France out of the euro, has consistently proved popular enough to enter the two-person run-off vote for the presidency in May, according to multiple opinion polls. Yet polls also show that she will be defeated in the second round -- a probability that has strengthened since former Prime Minister Francois Fillon won the nomination of the opposition Republicans last month.
Fillon would win 30 percent in the first round of voting, compared with 24 percent for Le Pen and 15 percent for former Economy Minister Emmanuel Macron, according to a Kantar Sofres-One point poll of 1,011 voters taken Nov. 28. The Republican candidate would then go on to defeat Le Pen 66 percent to 34 percent in the second round two weeks later, the poll shows.
French Buyers
Agence France Tresor, which handles French debt issuance, agrees that investors have acted on the political prospects, though insists that demand for French debt is still strong. The agency will present details Thursday of its plan to issue 185 billion euros ($197 billion) in debt in 2017.

Domestic holdings of French bonds have increased since the start of the euro-area sovereign debt crisis more than half a decade ago, in part because the Bank of France has been snapping up bonds as part of the European Central Bank's asset purchase program. Foreign holdings of France's outstanding debt were down to 59.8 percent of the total at mid year from 63.4 percent in June 2015 and 67.8 percent at the end of 2009.
"Some investors are playing on the scenario of increasing populism in Europe," Anthony Requin, head of the AFT, said in an interview with Les Echos newspaper this month. "We're also seeing investors such as institutions in Asia and French insurers that are taking advantage of the increase in rates to buy French bonds."