JPMorgan Plans to Sell Structured Notes Online Next Year
By
Bank hires IBM to help build platform, people familiar say

As bond revenues fall, dealers look to trim selling costs
JPMorgan Chase & Co. is looking to sell structured notes online and is building a website that will help retail brokers offer the securities, according to people with knowledge of the matter, as the largest U.S. bank looks to cut its costs for selling bonds.
The bank plans to launch its site as soon as the middle of next year, and hired IBM Corp. to help build it, said the people, who asked not to be identified because they aren't authorized to speak publicly about the bank's plans. It is joining an increasingly crowded field -- Goldman Sachs Group Inc. has a platform it calls "Simon" for selling both its own and other banks' structured notes, and independent firms like Halo Investing Inc. also offer the products.
Banks are trying to whittle down their bond trading costs as new regulations and low interest rates have slashed volume and profit in the business. Structured notes are no exception -- sales of the securities registered with the U.S. Securities and Exchange Commission through Dec. 1 have fallen by 19 percent this year to $33 billion, according to Bloomberg data. JPMorgan and Goldman are the top two issuers of the notes.
"The world is moving to electronic trading. You've seen it in equities and now we're seeing it in fixed income," said Jason Goldberg, a banking analyst at Barclays Plc. "It's driven mainly by the desire to cut costs."
Representatives for IBM, JPMorgan and Goldman Sachs declined to comment.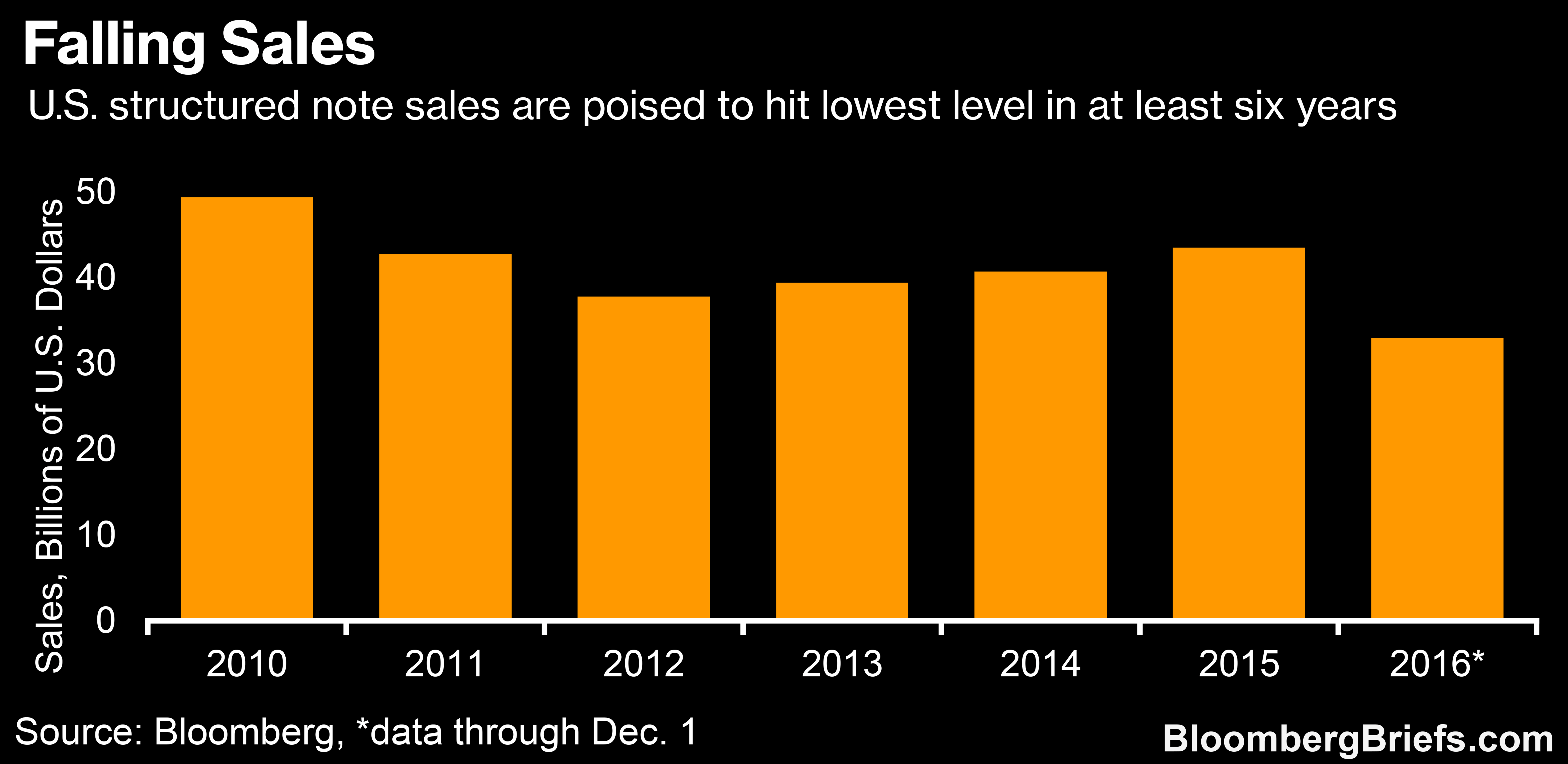 Selling structured notes online can make the brokers that offer these securities to their clients more efficient. Numerix LLC, a company that helps issuers sell their products, built a platform for DBS Bank Ltd. in Singapore two years ago. That site helped the bank's five-person team to respond to 20 to 30 times the number of requests from clients, according to Jim Jockle, the firm's chief marketing officer.
There are signs that trading volume in U.S. fixed-income markets is starting to rise again, but even so executives are aiming to improve efficiency because it is not clear how much better the business will get. Revenue plunged 45 percent between 2009 and 2015, according to data compiled by Bloomberg.
"Part of a secular improvement in this business has to be generating volumes by keeping cost structures fairly stable," said Charles Peabody, a banking analyst at Compass Point Research & Trading.
Paper Trail
Online platforms also ensure that salespeople offering the products leave a paper trail, said Satyam Kancharla, Numerix's chief strategy officer. Regulators since the financial crisis have scrutinized sales of complicated structured notes, which can be hard for investors to evaluate.
"There's a growing need for ensuring suitability at every point in the life cycle of the product," Kancharla said. "There has to be a trail that one can clearly point to for any transaction and say, 'This is what happened at this point and this is how trading decisions were made.'"
IBM hired Carmen Palladino, formerly a vice president at Incapital LLC working on structured investments, as a contractor to work for six to nine months on JPMorgan's platform, according to the people with knowledge of the matter, who asked not to be identified because the information is private. Palladino didn't reply to calls and e-mails requesting comment.
Current project plans suggest that the platform is being designed to sit on the desktop of a broker or retail investment adviser and will help with buying, customizing and tracking the performance of notes, one of the people said. The bank's plans may change over time, the person said.
Similar Steps
JPMorgan has taken similar steps to improve efficiency in other parts of its bank. For example, its U.S. consumer- and commercial-banking arm worked with On Deck Capital Inc. to offer an online-lending platform for small businesses that it said would automate its approvals processes, allowing a borrower to get a loan in as little as a day instead of the month previously required.
For structured notes, Goldman's "Simon" platform is up and running. The bank and competitors can sell products on the platform. The number of individual advisers signed up for the platform has grown five times, to 14,000, Jason Broder, head of the private investor products group in the Americas at Goldman Sachs, said on Nov. 21.
Halo's online marketplace also allows brokers to buy structured notes from multiple issuers.
"We think the problem with the structured-notes market is that the way they are sold is basically the same way travel agents sold airline tickets 30 years ago," according to Biju Kulathakal, co-founder and chief executive officer of Halo. "But a platform could be like the Expedia or Orbitz for the industry."
This article was originally published in Bloomberg's Structured Notes Brief.
— With assistance by Viren Vaghela
Before it's here, it's on the Bloomberg Terminal.
LEARN MORE