Hong Kong's Regina Ip Vows National Security Push in Election Campaign
By and
Lawmaker urges cooperation with opposition to ease divisions

Beijing advocate known for earlier effort to pass security law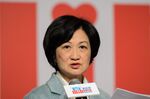 Hong Kong lawmaker Regina Ip pledged to revive China-backed proposals to overhaul elections and tighten national security, as she became the first pro-Beijing politician to launch a run for the top leadership post in the former British colony.
The New People's Party chairwoman -- best known for leading a failed effort more than a decade ago to pass a national security bill that drew hundreds of thousands of protesters to the streets -- announced her bid for chief executive at a rally in Wan Chai on Thursday. She enters a race shaken up after the surprise decision last week by Leung Chun-ying, the unpopular incumbent, not to seek a second five-year term.
"Hong Kong-Mainland relations are poisoned with antagonism, and ideas of separation and Hong Kong independence are slowly fermenting," Ip, 66, told a crowd of supporters. "Hong Kong's image in the international community suffers. These predicaments that plague our lovely city cause pain to every heart that wishes the best for Hong Kong."
The announcement marks Ip's latest effort to complete a political comeback after resigning as local security secretary in 2003 amid a public backlash against the so-called Article 23 legislation. In the years since, Ip has established herself as one of the China-backed establishment's most potent defenders, winning the most votes in her legislative district in September and securing a seat on the city's Executive Council. She resigned her cabinet post Thursday in preparation for the run.
"She has shown she is quite loyal to Beijing," said Chung Kim-wah, a political scientist at the Hong Kong Polytechnic University.
Election Committee
The next chief executive is due to be chosen in March by a committee of 1,200 electors representing various industries and interest groups, a China-controlled process at the center of the mass Occupy protests two years ago. Ip would need to secure support from 150 members to become the first woman nominated for the post since Hong Kong's return to Chinese rule in 1997 -- a threshold she failed to meet in a similar bid five years ago.
Potential opponents include John Tsang, who on Monday signaled a possible run by resigning as financial secretary, and Leung's top deputy, Carrie Lam, who said she was reconsidering her retirement plans in light of her boss's decision. Former judge Woo Kwok-hing, 70, announced a run in October.
While Ip won more than 60,000 votes September legislative elections -- beating out 15 other slates on Hong Kong Island -- that might not be enough to carry her through the chief executive campaign. A November poll commissioned by the Hong Kong Economic Journal, had Ip coming last out of six potential candidates, with 8.4 percent of the vote, lower than Leung's 9.5 percent.
'Unprecedented Division'
Ip previously worked as a civil servant for the Hong Kong government, holding positions including director of immigration, before being appointed security minister. After stepping down from that role, she studied political science at Stanford University in the U.S. She later established the Savantas Policy Institute, a policy think thank, and won a seat on the city's Legislative Council in 2008.
She lamented an "unprecedented division and hostility" that she said had emerged over the past few years. "The next administration must demonstrate willingness to work with different parties and invite the non-establishment parties to participate in governance, as long as they faithfully uphold national sovereignty, territorial integrity and the Basic Law," she said, referring the city's charter.
Even as she urged unity, she said would reintroduce a China-backed proposal to allow direct elections for the chief executive, based on the same restrictive framework that prompted the 2014 protests. She also cited the Article 23 legislation among the measures that she would implement.
Ip called for an overhaul of the government's land auction process, boosting the labor pool, and a study on the feasibility of developing green belt sites, wooded sites and rural parks near urban areas. She also advocated the establishment of a lands development authority to build a land bank for long-term planning.
Before it's here, it's on the Bloomberg Terminal.
LEARN MORE