Goldman's Next Generation Set to Battle as Blankfein Grips Power
By
Harvey Schwartz, David Solomon are named co-presidents

They succeed Gary Cohn, who moves to Trump's economic team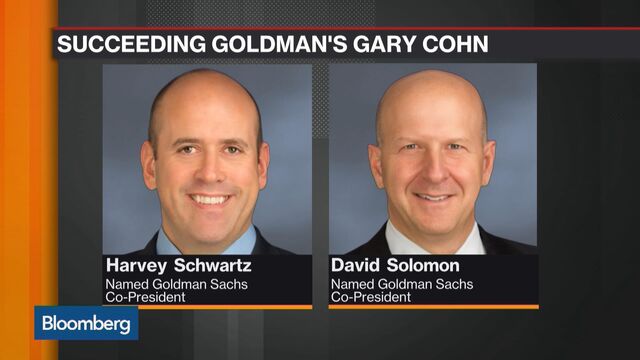 Let the horse race begin. Wall Street has already started handicapping who will be the next chief executive officer of Goldman Sachs Group Inc. now that a new generation of leaders has been appointed.
Except this could be a very long race. CEO Lloyd Blankfein, 62, outlasted a deputy who stuck around for a decade. At a private dinner for former Goldman partners last week at New York's Pierre hotel, Blankfein said he'd steered the bank through good times and bad, and planned to lead it through more, according to three attendees.
Gary Cohn, long seen as Blankfein's heir apparent, was named Monday as President-elect Donald Trump's top economic adviser, prompting Goldman to appoint Chief Financial Officer Harvey Schwartz, 52, and investment-bank co-head David Solomon, 54, as co-presidents. They'll now vie for Blankfein's job, setting up what's likely to be one of the most closely watched leadership races on Wall Street.
Cohn left a 25-year career after Blankfein made it clear that he wasn't stepping down. In an interview with David Rubenstein, the founder of Carlyle Group LP, that aired on Bloomberg Television in October, Blankfein said he still has "some work left to do" before his legacy is polished. The CEO also said he hadn't thought about what comes next.
'Gave Up'
"Gary Cohn's departure tells you that he probably gave up," said Bruce Foerster, a Wall Street veteran of two decades and president of South Beach Capital Markets. "It's hard to turn down an invitation to work in the White House."
Blankfein has already shown resilience in the face of serious illness, having undergone 600 hours of chemotherapy treatments after being diagnosed with lymphoma in September 2015. In February, he said he was "probably cured."
For now, his newly minted No. 2's have time to jockey for position. While the office of president has been seen as a stepping stone to CEO at Goldman, at least four executives who've held that position have left before advancing, including Cohn, Jon Winkelried, John Thain and John Thornton.
"Leadership change inevitably leads to idle speculation about the future that shouldn't be taken seriously," Jake Siewert, a Goldman Sachs spokesman, said in a statement.
Schwartz started at Goldman Sachs as a vice president in the currency and commodities-trading unit, managed by Blankfein and Cohn. He's seen as one of Blankfein's guys, according to a person who knows both men. Schwartz is also said to be close to Marty Chavez, who'll replace him as CFO in April and provide an ally on the 41st-floor executive suite.
'Brain Trust'
Solomon's name has long been on a list of potential successors to Blankfein or Cohn, and he was part of the group known as the Goldman Sachs "brain trust" during the financial crisis, according to Andrew Ross Sorkin's 2009 book "Too Big To Fail." He helped close a deal that resulted in the firm getting $5 billion in capital from Warren Buffett.
Even so, Solomon isn't seen as one of Blankfein's closest associates, the person said.
How they split the co-president role is also important. Goldman Sachs has long balanced the competing interests of investment banking and trading. The chosen leaders typically have ties to the best-performing businesses of the time. Paulson, an investment banker, became CEO as the technology boom fueled a flurry of corporate deals. Blankfein, a former gold salesman, ascended as fixed-income trading drove earnings that made the bank the most profitable firm on Wall Street.
With Trump taking office, Republicans may have the chance to roll back some Wall Street regulations they've criticized, including limits on trading. In recent months, trading revenue has rebounded and Goldman's share price is near a record high.
In a memo to staff Wednesday, Blankfein offered a vision of what the two new rivals face.
"In every generation there has been leadership succession at Goldman Sachs and in every instance, new leaders seized the opportunities and met the challenges of the day," Blankfein said in the memo. "Only time will tell what challenges and opportunities lie ahead."