Europe Stocks Rise on Weak Euro as Fed Signals Faster Rate Hikes
by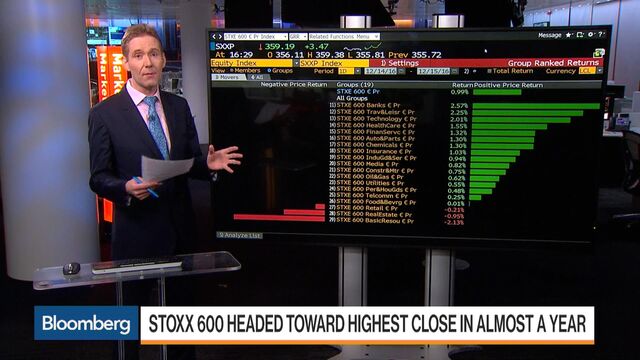 European stocks climbed as the euro tumbled to the weakest level since 2003 against the dollar after the Federal Reserve signaled it will raise interest rates more quickly next year.
The Stoxx Europe 600 Index rose 0.9 percent to close at its highest level since January. The benchmark is 1.9 percent away from erasing its declines for the year. Banks and exporters to the U.S. including technology and health-care companies were among the biggest gainers after Fed officials forecast they now expect three quarter-point rate increases next year, up from two seen in September. Travel shares also rallied.
The Stoxx Europe 600 Banks Index climbed 2.5 percent, trimming its 2016 losses to 4 percent, while gains in carmakers pushed up Germany's DAX Index by 1.1 percent to a one-year high.

"Market participants are re-playing the theme that a U.S. hike means a stronger dollar and a weaker euro, which is good for European stocks overall," said Stephane Ekolo, chief European strategist at Market Securities. "If you add expectation for a rise in economic growth and inflation in Europe and a recovery in earnings, all that bodes well for European stocks at the moment."
Grifols SA rose 6.7 percent after Europe's largest maker of blood-plasma products agreed to buy Hologic Inc.'s blood-screening business.
Electricite de France SA led declines, plunging 13 percent, after Goldman Sachs Group Inc. said the firm's earnings target for 2017 is well below expectations.
The Fed raised its policy rate by a quarter percentage-point to 0.75 percent in the first such action in a year, as was widely anticipated by futures traders, helping send the S&P 500 Index down 0.8 percent.
Asked if she's comfortable with stocks near record highs, Fed Chair Janet Yellen said rates of return on equities are within normal ranges. The S&P 500 Index closed at a record on Tuesday.
"Maybe Fed officials are more concerned about the prospects for a rise in inflation next year than they are letting on, given the potential boost a fiscal stimulus could bring, which was something they didn't have to consider last year," Michael Hewson, a market analyst at CMC Markets in London, wrote in a note.
Before it's here, it's on the Bloomberg Terminal.
LEARN MORE