Erdogan's Koza Group Power Grab Spills Into U.K. Courts
By
Turkish tycoon says companies are victims of political agenda

Koza Altin trustees linked to president seek control of assets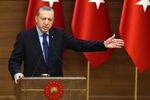 A U.K. unit of gold miner Koza Altin Isletmeleri AS sued its parent in British courts, alleging the Turkish government is trying to unlawfully take control of the company as part of President Recep Tayyip Erdogan's crackdown on suspected sympathizers of vocal opponents to the regime.
Akin Ipek, a tycoon whose family partially owns Koza Altin and other businesses in Turkey, claims in the lawsuit that dozens of trustees with ties to Erdogan were unlawfully appointed in 2015 by the company in a plot to wrest control through orders from government-appointed judges. The new trustees contest Ipek's assertions, and say they are independent appointees.
Authorities confiscated 18 of Ipek's companies in September amid allegations that they financially "supported terrorism." Ipek fled for London as allegations mounted in an investigation into suspected sources of funding for the outlawed Gulen Movement, that Erdogan blames for fomenting the putsch. More than 100,000 people have been jailed, fired or suspended from office for their alleged links to the proscribed terrorist group since the failed attempt.
'Political Reasons'
Appointing the trustees in October 2015 was a vehicle "to assist the Turkish government to expropriate the assets of Mr. Ipek, his family and businesses for unjustified political reasons," Ipek's lawyers said in documents filed at a London court in August and made available this week. "This was a flagrant abuse of the Turkish criminal justice system."
The new management of the seized company disagrees, and say the appointment of the trustees followed Turkish law.
The new members had every right to seek the Turkish court rulings the company applied for, and British judges don't have jurisdiction to rule on most of the allegations, lawyers said in court documents. The trustees include some representatives of opposition parties, they said.
"It is not, and has never been, the intention of the trustees or Koza Altin to misappropriate the company's money or harm its business -- nor have they done so -- and their duties as trustees would have precluded them from doing so," lawyers for new trustees of the Istanbul-based company said.
Ipek and his lawyers didn't immediately respond to requests for comment.
The government placed Ipek's companies, including three publicly traded mining and energy units that were once worth a combined $5.8 billion, under external management last year and formally seized them in early September, transferring control to the Savings & Deposit Insurance Fund.
Office Raid
"This action is taken for the benefit of all of Koza Altin's shareholders -- including funds, banks and other Turkish and international investors who directly own 30 percent of Koza Altin and indirectly own a majority of around 70 percent," Koza Altin said in a statement. 
The changes "have not damaged the company's interests in any way, and have been welcomed by investors, including western institutional investors. This is clearly evidenced by the company's share price, which has risen since Mr. Ipek's removal," according to the statement.
The Turkish government began a campaign of intimidation against staff at Koza's media outlets at the end of 2013, when its newspapers reported allegations of corruption linked directly to Erdogan, Ipek's lawyers said.
Some two years later the Bugun newspaper printed a story criticizing the Turkish government, on the same day police raided its headquarters confiscating computers and documents.
Following an investigation, a criminal court judge granted the searches on the basis that crimes had been committed. Ipek was accused of transferring $7 billion into foreign banks, an accusation his lawyers call "absurd." Koza Altin was accused of accepting a $35 million donation from an iron-ore company, a suggestion that "has no basis in fact," his lawyers said. 
The 60 million pounds controlled by the U.K. unit has been subject of several court cases in Turkey and Luxembourg, with judges producing contradictory rulings about whether it should be returned to the parent company or kept in London.
The case is Koza Ltd. v Akcil Mustafa in the U.K. High Court of Justice, Chancery Division case no HC-2016-002407
— With assistance by Benjamin Harvey
Before it's here, it's on the Bloomberg Terminal.
LEARN MORE