China's 10-Year Sovereign Bond Yield Surges by Most on Record
Bloomberg News
Unprecedented rally for sovereign debt giving way to rout

Hawkish Fed adds to concerns on faster inflation, outflows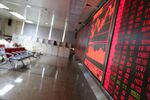 A record bull run in China's bond market is being brought to an abrupt halt.
The 10-year sovereign yield surged a record 22 basis points on Thursday as a plunging yuan and hawkish comments from the Federal Reserve damped expectations of monetary easing in China. These factors are converging with other negatives -- including recent data showing accelerating inflation, quickening capital outflows and tighter liquidity. Here are five charts showing why the reversal of a rally that began in 2014 has been so drastic.
1. Tightening Money Markets
The People's Bank of China has been steering money-market rates higher to spur deleveraging and reduce depreciation pressure on the yuan. Bond yields are tracking rates upward, with the 10-year yield jumping to a 16-month high of 3.45 percent on Thursday.

2. Global Slump
China's bond selloff is part of a global trend. With U.S. Treasuries declining amid expectations of more Federal Reserve tightening after Wednesday's interest-rate increase, the gap between the U.S. and Chinese 10-year yields narrowed to the least in five years last month. This adds to depreciation pressure on the yuan and reduces the appeal of Chinese bonds to foreign investors.

3. Quickening Outflows
While the PBOC has been using new lending tools to add funds to the financial system, rising capital outflows have exacerbated the pressure. In the eight months through November, the outstanding balance in the monetary authority's Medium-term Lending Facility has increased by 1.4 trillion yuan ($203 billion), while the PBOC's yuan positions, a gauge of capital flows, have dropped by 1.6 trillion yuan.

4. Bank Deleveraging
The ratio of total assets to deposits of Chinese banks has increased over the years as growth in the former accelerated amid a boom in interbank and shadow-banking activities. Now, with rising money-market rates making it more expensive for lenders to fund their assets, they are selling bond holdings and deleveraging balance sheets.

5. Inflation Picks Up
Both domestically and globally, inflation expectations are picking up. In China, consumer and producer prices increased faster than projected last month, reducing demand for debt and adding to expectations the PBOC will tighten monetary conditions.

— With assistance by Justina Lee, Yuling Yang, and Ling Zeng
Before it's here, it's on the Bloomberg Terminal.
LEARN MORE