Carney Said to Meet at ECB as Central Banks Seek Brexit Help
by
Bank of England governor to attend ECB's General Council

European policy makers looking for clues on economic spillover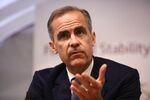 European monetary policy makers can ask for some of the best insight available into the economic implications of Brexit on Thursday, when Mark Carney visits Frankfurt.
The Bank of England governor will attend a closed-door meeting of the General Council, the forum for the central banks of the 28-nation European Union, according to people familiar with the matter. Hosted by the European Central Bank, the event is highly likely to see him questioned about the British decision to leave the EU, the people said, asking not to be named because the session is private.
Officials including ECB President Mario Draghi will have the chance to hear the Canadian's inside-track assessment of damage control as the first phase of Britain's decoupling nears an end, six months after the vote. While Draghi has said the U.K. would suffer most in a disorderly exit, Carney has warned that the country is the "investment banker for Europe" and it's in the bloc's own interest to ensure it can still access that service.
A BOE spokesman said that Carney generally attends the General Council, which meets quarterly. A spokesman for the ECB declined to comment on the council's agenda.
The gathering will be one of the last before the U.K. formally starts the Brexit process by triggering Article 50, something Prime Minister Theresa May has pledged to do by the end of March.
Spillover Threat
So far, the impact of the June vote on the British economy has been mild, though figures this week showed inflationary pressures building after a slump in the pound, and U.K. employment falling for the first time in more than a year.
The BOE is striking a neutral stance as it balances a desire to support the economy against its need to keep inflation in check. The Monetary Policy Committee kept its key interest rate at a record-low 0.25 percent on Thursday, and left its asset-purchase program unchanged. It also said the pound's recent gain may alleviate the upward pressure on consumer prices, but that volatility is likely as views on the U.K.'s future relationship with the EU evolve.
Meanwhile, euro-area policy makers are trying to gauge how serious any slowdown may be in 2017, and the spillover threat it poses to the currency region.
Draghi warned in November that a less-open Britain would "first and foremost" weigh on the nation's economy, with "limited" adverse effects on the euro area. Two days later, Carney said a disruption to London's financial district could weaken vital fund flows into the rest of the EU.
The General Council differs from the ECB's Governing Council, in which central bankers from the 19 nations using the euro set common policy.
Before it's here, it's on the Bloomberg Terminal.
LEARN MORE