Carney's Brexit Balance to Be Tested as Inflation Quickens
By
Recent data shows U.K. economy on track for expansion in 4Q

Economists see policy on hold as inflation expectations rise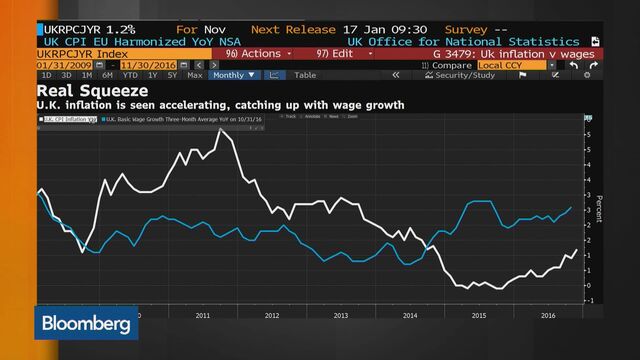 Mark Carney's policy balancing act may get trickier in 2017.
The U.K. economy has showed continued strength since the last Bank of England decision on Nov. 3, and a weaker pound is stoking prices. That's already prompted officials to shift their stance to neutral from easing, saying there are limits to their tolerance of faster-than-targeted inflation.
The complications could mount if the governor's prediction for slower growth next year is coupled with a continued pickup in price growth. If the economy does falter, increasing inflation expectations may give officials less room to loosen policy as Britain begins its formal talks on leaving the European Union.

The BOE's Monetary Policy Committee will detail its latest thinking with its December decision at noon in London on Thursday. The report may also give a first insight into their take on the government's Nov. 23 Autumn Statement, in which the Chancellor of the Exchequer Philip Hammond reduced the scale of fiscal consolidation.
Growth has so far held up better than many economists predicted in light of the Brexit vote. And while inflation is so far in line with the BOE's November forecasts -- accelerating to 1.2 percent in November -- expectations for price-growth are rising, which could bolster the case for higher rates among some policy makers.
"The hawks might ramp up some of their discussion a little bit, talking about upside risks to the inflation outlook," Chris Hare, an economist at Investec, said by phone. "But I think it's a little too early for them to make a concerted move -- there's still more data to see before we know which way the balancing act is going on the monetary policy stance."
Substantial risks remain on the horizon for the U.K. economy. Prime Minister Theresa May has promised to start formal exit negotiations with European Union leaders by the end of March 2017, and it's still unclear whether Britain will be able to maintain ample trade and migration with the bloc.
The U.K. is still facing "sharp growth slowdown," according to Rob Wood, an economist at Bank of America-Merrill Lynch in London.
"At the moment, the BOE seems to be placing roughly equal weight on unemployment and inflation," Wood said in a note to clients on Wednesday. However, "despite what rate setters say, we think the BOE will eventually have to come back with more easing, and we do not believe the central bank is anywhere close to hiking rates."
Economists agree that there is little immediate pressure on the central bank to change policy, with all 62 respondents in a Bloomberg News survey forecasting that it will keep its key interest rate at a record-low 0.25 percent on Thursday. In a separate survey, the median forecast is for no change in rates for at least a year.
As well as signaling continued economic momentum, company surveys show that firms are reporting more inflationary pressure as input costs rise. That's causing price increases for household products such as Marmite spread and Toblerone chocolate bars.

The inflation pressure has been partly fueled by higher oil prices and the slump in the pound after the Brexit vote. However, some of that has unwound since the BOE's last meeting on Nov. 3 with sterling strengthening in recent weeks, gaining about 6.5 percent on a trade-weighted basis. That will soften the rise in inflation and mean it may overshoot the central bank's target by less than previously forecast.

While the data on the whole has been coming in better than expected since the Brexit referendum, there have been a few cracks in the armor appearing. Manufacturing output fell the most in eight months in October and employment fell for the first time in more than a year in the latest labor market report.

Those signs of weakness, combined with the potential for increased uncertainty around the time Prime Minister Theresa May triggers Article 50, which will begin the official EU departure negotiations, mean BOE policy makers may want to be in a position to support growth next year.
"I suspect it's the weakness in growth that ultimately is going to be a problem for them because it's likely the spike in inflation will be temporary," Peter Dixon, an economist at Commerzbank AG in London, said in a telephone interview. "As we go through the Article 50 negotiation process, I just don't really see that the bank would want to upset that too much with a rate rise. It's going to be a very fragile time."
— With assistance by Jill Ward
Before it's here, it's on the Bloomberg Terminal.
LEARN MORE