Brexit Bulletin: We're All Transition Fans Now
Everyone wants to be a 'thoughtful politician.'
By
Sign up to receive the Brexit Bulletin in your inbox, and follow @Brexit on Twitter.
So much for Prime Minister Theresa May's pledge to give "no running commentary" on how the U.K. plans to leave the European Union.
Brexit Secretary David Davis on Wednesday gave the most detailed public statement yet of how her government sees the negotiations unfolding.

At the House of Commons Brexit committee, he publicly conceded for the first time that he is open to a transitional agreement to "bridge" the gap between the British departure from the EU and a new long-term trade relationship with the bloc.
Industry groups will welcome such a signal, along with Davis's confidence that it's "perfectly possible" to decide the "end game" within two years of talks. They are desperate for insight into what lies ahead and to avoid the prospect of the U.K. exiting without a safety net.
Davis was previously reported to be skeptical of the need for such an arrangement. His clarification came a week after European Commission negotiator Michel Barnier backed the idea and two days after Chancellor of the Exchequer Philip Hammond said "thoughtful politicians" were coming around to it. 
The private sector may still be disappointed. Davis reiterated that a clampdown on immigration is a must and that the U.K. and EU must agree on the shape of the final deal before discussing any buffer. Banks are especially keen for an early commitment to a transition; euroskeptics would prefer a clean break.
"Whatever the transitional arrangement is, we need to know where we are going before we decide on the transition... If you build a bridge, you need to have both sides established before you build the bridge, so we need to know where we are going."
Other insights: Davis said the government won't publish its Brexit plan before February, and the U.K. is reviewing Turkey's partial membership of the EU customs union as a potential model, as well as studying Norwegian and Swiss trade links. The government is "in a good position" to ensure open access to flights to the EU after Brexit, he said.
Banks Seek a Bridge
The financial services sector has its eye on how all this talk of transition is playing out. 
Sam Woods, head of the Bank of England's Prudential Regulation Authority, told a parliamentary panel on Wednesday that "it's in the interest of all parties to have a reasonable implementation phase," instead of a "sudden and complete severance" of financial services.
"Firms will make their first set of decisions about these contingency plans in the coming months, a small number of months; they will then begin to invest in the various things they need to do."
In a report published overnight, the House of Lords also urged the government to act "to prevent U.K.-based financial-services firms from restructuring or relocating on the basis of a worst-case scenario." The Lords warned that New York rather than the EU could end up the winner of any exodus from London.
It may all be too late. The Financial Times reports on Thursday that Lloyd's of London is already planning to establish a base elsewhere in Europe in 2017.

Attention switches from London to the continent on Thursday, with EU leaders meeting in Brussels poised to set out for the first time how the bloc will conduct its Brexit negotiations. 
The meeting will also take a look at the challenges ahead in 2017, which range from the Brexit talks to elections in the Netherlands, France and Germany.
Brexit Bullets
The U.K. Foreign Office is adding to uncertainty over Brexit, a panel of MPs says
Intercontinental Exchange says London should keep control of clearing
U.K. plays down BBC report that trade deal could take a decade
Sweden's finance minister says negotiations will be "more difficult" if the U.K. cuts corporate taxes
Cutting ties with European Court of Justice would make it harder to return crime suspects and freeze assets, says former Deputy PM Clegg 
Migration Watch U.K. says divergent immigration policies around Britain would cause chaos
Juncker says Scotland has right to be listened to on Brexit, The National reports
Airport profits from foreign exchange conversion have topped £100 million, the Times reports
Some eastern European governments want early trade talks with U.K., says the Telegraph
On the Markets
The Bank of England held interest rates at a record low 0.25 percent, prompting a decline in the pound of almost one percent. Sterling recovered some of those losses, trading 0.66 percent down at 12.15 p.m. local time.

The bank noted that the rise in inflation expected for 2017 could be slowed somewhat by recent appreciation in the pound.
And Finally…
Guy Verhofstadt, the European Parliament's point person on Brexit, on Wednesday invoked the late U.S. President Lyndon Johnson in warning that failure by regional leaders to heed the advice of the legislature would lead it to open its own talks with the U.K.
"He said once: better to have him inside the tent pissing out than outside the tent pissing in," Verhofstadt said. "Maybe that's a good reality." On Thursday, as the EU leaders' summit got under way, Verhofstadt tweeted that he had a "useful" meeting with Theresa May. 
A reminder: ordinary Brits might not know who Verhofstadt is, but they reckon he's a decent negotiator.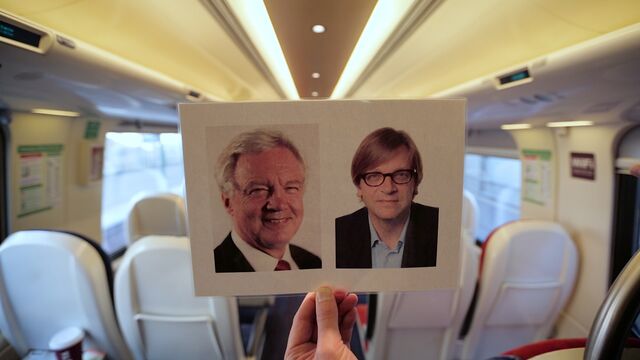 For more on Brexit follow Bloomberg on Twitter, Facebook and Instagram, and see our full coverage at Bloomberg.com
Before it's here, it's on the Bloomberg Terminal.
LEARN MORE