Bombardier Sees End of 2-Year Sales Slump as C Series Picks Up
By
Trump's election is 'pro-growth, pro-business,' CEO says

Planemaker reaffirms goal of $25 billion revenue by 2020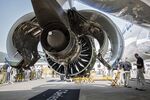 Bombardier Inc. predicted sales and pretax profit will rebound next year and the drain on cash will ease, as Chief Executive Officer Alain Bellemare's cost cuts start to bear fruit.
Revenue will increase by a low-single-digit percentage in 2017 after falling this year and last, Bombardier said in a statement. The Montreal-based maker of planes and trains confirmed a goal to break even on a cash-flow basis in 2018 and a target to reach $25 billion in annual revenue by 2020 -- about 50 percent more than its projection for this year.
"We have made huge progress in 2016," Bellemare said in a presentation to analysts and investors Thursday in New York. "We are very well-positioned for solid top line growth" in the coming years.
The CEO and his team are working to overcome cost overruns and a delay of more than two years on the C Series jetliner, a model intended to compete with planes from Boeing Co. and Airbus Group SE, after about $6 billion in development costs. This year alone, Bellemare has announced about 14,500 job cuts in a bid to lower operating costs and improve margins. Bombardier expects to deliver 30 to 35 C Series planes in 2017, up from seven this year.
"Management is clearly controlling the controllables as their cost reduction initiatives begin to take hold," Walter Spracklin, an analyst at RBC Capital Markets, said in a note to clients. "The improving cost profile sets the stage for higher operating leverage when demand levels pick up."
Bombardier gained 3.4 percent to C$1.98 at 12:39 p.m. in Toronto. The shares had climbed 48 percent this year through Wednesday, compared with a 17 percent advance for the S&P/TSX Composite Index.
Management Overhaul
Since his appointment in February 2015, Bellemare has overhauled Bombardier's management team, bringing in executives such as Fred Cromer, an airline and leasing industry veteran who now runs the company's commercial aircraft unit. Of the eight people who addressed investors on Thursday, only two were with the company at the start of last year.
Earnings before interest, taxes and special items next year will rise to $530 million to $630 million, while free cash-flow use will decline to between $750 million and $1 billion, Bombardier forecast. For this year, the company has projected Ebit before special items at $350 million to $400 million and said it would burn through $1.15 billion to $1.45 billion in cash.
To cut costs, Bombardier is seeking to specialize factories -- for example, by making its Belfast, Northern Ireland, plant a center for complex aerostructures, Jim Vounassis, the company's chief transformation officer, said Thursday. Bombardier also plans to reduce the number of suppliers across its businesses and negotiate discounts.
Restructuring Plan
Bellemare's restructuring plan calls for Bombardier to spend $250 million to $300 million next year, logged as a special item, "to further improve efficiency, reduce costs and optimize" operations, according to the statement. Total capital expenditures will probably reach $1.4 billion next year and drop to about $1 billion annually starting in 2019, Chief Financial officer John Di Bert said.
Analysts have been skeptical Bombardier would meet its goal to break even in 2018, projecting the following year as more likely, according to estimates compiled by Bloomberg.
Revenue from commercial aircraft will more than double to $5.5 billion by 2020 as C Series deliveries accelerate to as many as 120 planes in four years, according to a presentation on the company's website. Bombardier still expects the C Series program to break even by 2020, the company said.
The planemaker plans to deliver 80 to 85 commercial aircraft and 135 business jets next year.
Trump Optimism
Donald Trump's election as U.S. president is "pro-growth, pro-business," Bellemare said. "We're optimistic about this leadership change, and we think it could be very good for our business, especially our business-aircraft segment."
Bombardier's business-jet revenue could reach $10 billion a year by 2020, from about $5.5 billion this year, said David Coleal, who runs the unit. A rebound in emerging markets will drive demand, he said. He predicted the number of such planes in service would increase roughly 10 percent to about 5,000 globally over the period, boosting demand for parts and services.
Before it's here, it's on the Bloomberg Terminal.
LEARN MORE