Barnier's Brexit Wings Clipped in Hint of Future EU Disunity
By and
Clash over rights of national governments and EU parliament

Theresa May not present for discussion at summit in Brussels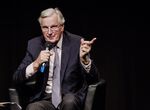 A first glimpse of the European Union's potential for disunity on Brexit emerged at a Brussels summit, as EU leaders were caught up in a dispute over how the bloc negotiates with the U.K. as it heads for the door.
After Prime Minister Theresa May left Thursday's all-day meeting, leaders devoted a short final session to their approach to Brexit, focusing on efforts to resolve a spat over how governments and EU bodies will be represented in the coming talks.
For the latest state of play on Brexit, click here
A meeting on Monday among diplomats to prepare the leaders' debate descended into a clash between different centers of EU power. That upset continued to reverberate into Thursday, showing the potential for disagreement that may undermine the bloc's attempts to stay unified throughout the negotiations that are due to last at least 18 months.
"We met briefly at the very end as 27 to talk about procedural questions, particularly cooperation between the institutions, in relation to Britain's departure" from the EU, German Chancellor Angela Merkel told reporters at the summit's close just before midnight. "But that isn't a particularly urgent task because Britain hasn't even filed its application under Article 50" of the Lisbon Treaty.
Barnier's Lead
The conflict centered on how far Michel Barnier, chief negotiator for the European Commission, the EU's executive arm, will be able to take sole lead in haggling with the U.K. At Monday's meeting, Martin Selmayr, top aide to Commission President Jean-Claude Juncker, objected to governments' request that they too have a representative, a diplomat attending the talks said on condition of anonymity because the discussions were private.
An additional spat concerned the involvement of the directly elected European Parliament in the negotiations, with the assembly's President Martin Schulz warning that lawmakers could disrupt a final Brexit deal unless they were properly involved in the process.
Here is a profile of Michel Barnier
May held a 20-minute meeting before the start of the summit with both Barnier and the European Parliament's Brexit negotiator, Guy Verhofstadt. They discussed ensuring a smooth, orderly Brexit, according to an official in May's office. Britain's approach is to engage with the Parliament on Brexit, and any disagreement between the Parliament and the European Commission is for them to work out, the official said.
While May was in Brussels, Sky News cited unidentified officials as saying that Barnier is working on the basis that Britain will face a Brexit bill of as much as 60 billion euros ($63 billion) to cover outstanding liabilities with the bloc. The official in May's office said that any such bill falls under the category of complex issues that will be subject to negotiation.
EU Citizens
May gave a short update on Brexit to her counterparts during the meeting, in which she outlined two issues, the first being the U.K. government's appeal against a high court ruling that she must seek Parliamentary approval before triggering Brexit, Irish Prime Minister Enda Kenny told reporters. He said May's second issue was that she wants to have the question of U.K. citizens living in Europe and European citizens living in the U.K. dealt with "in the early parts of discussions that will take place."
The EU 27's Brexit talks didn't discuss topics such as how long it will take to broker a new trade deal with Britain, or whether there will be any transitional arrangements, he said. "The subsequent discussion among the 27 did not get into any detail of that nature," Kenny said. "They were concerned with keeping the European Parliament in a way that would reflect the work that the European Parliament is doing."
At their last summit of a miserable year for the EU, the 27 leaders minus the U.K. stressed their intention to maintain a stance first agreed in June of "no negotiations of any kind" until the British government gives official notification of its decision to leave, according to a statement issued at the summit end.
Four Freedoms
The EU 27 "intend to conduct the withdrawal negotiations in a spirit of trust and unity among us," according to the statement. "We reiterate that any agreement will have to be based on a balance of rights and obligations, and that access to the single market requires acceptance of all four freedoms," which includes the free movement of people across internal borders, something that May rejects.
While EU governments have broadly shown a common front so far, they know that unity will be tested if the U.K. seeks to exploit nations' competing demands and interests when talks get under way. With May saying she doesn't expect to trigger Article 50 to formally start negotiations until March at the latest, the EU wants to put in place a negotiating structure to represent all members of the club and get them a good deal irrespective of Britain's demands.
Leaders reached a compromise which saw them "welcome" Barnier's role as chief negotiator but send a representative of the country that holds the six-month rotating presidency of the EU to sit alongside him "to ensure transparency and build trust." In 2017, that's two of the bloc's smallest nations: Malta and Estonia.
As for the EU Parliament, leaders backed down from their position at the start of the week and allowed representatives to join meetings to prepare Brexit talks. While the assembly has no legal right to participate in the process, it must give its consent to the final deal -- and that "will be much easier to obtain if we are properly included in its drafting," Schulz told reporters in Brussels before the meeting.
"If we are not adequately involved, we may not be able to give our consent and in this situation the U.K. would face the hardest Brexit possible," Schulz said.
May canceled a planned press conference after the summit and spoke to reporters for just a minute before leaving, without mentioning Brexit. Among the EU 27, Kenny said, "there was no discussion about transitional periods, two years, or ten years or whatever."
— With assistance by Arne Delfs, Nikos Chrysoloras, John Follain, Anne Van Der Schoot, Gregory Viscusi, Esteban Duarte, Ott Ummelas, Tony Czuczka, and Karl Stagno Navarra
Before it's here, it's on the Bloomberg Terminal.
LEARN MORE