Alleged Musk Impersonator Drops Claim Tesla Hacked His Account
Kartikay Mehrotra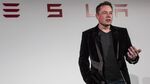 The former oil services executive sued by Tesla Motors Inc. for impersonating Elon Musk in an e-mail dropped his claim that Tesla Motors Inc. sent someone to a Best Buy store to hack his Twitter account to learn his identity.
Todd Katz, a self-described critic of the company, had accused the electric car maker of prying into his Twitter account, saying the company was overreacting after its finance chief received an e-mail in August from ElonTesla@yahoo.com that was too "goofy" to be credible.
Katz didn't explain why he's dropping his counterclaim against the company in a filing Monday in California state court in San Jose.
The case is Tesla Motors Inc. v. Katz, 16CV299916, Superior Court of the State of California, County of Santa Clara (San Jose).
Before it's here, it's on the Bloomberg Terminal.
LEARN MORE