All Types of Loans Cost More Just One Day After Fed's Rate Hike
By and
JPMorgan, Bank of America increase prime lending rate to 3.75%

Banks don't feel pressure to raise deposit rates, analyst says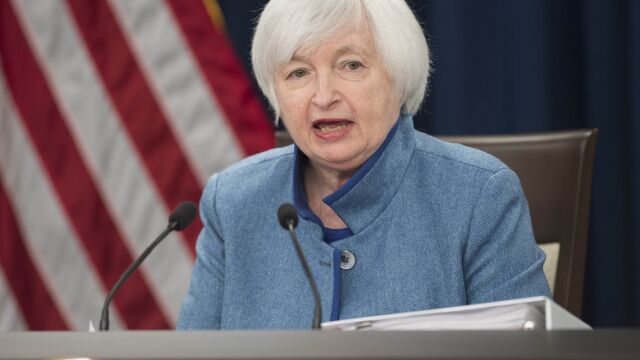 It's been less than 24 hours since the Federal Reserve raised interest rates and already bank customers are paying more for loans.
JPMorgan Chase & Co., Bank of America Corp. and Wells Fargo & Co. and other big lenders raised their prime lending rate to 3.75 percent from 3.5 percent following the Fed's decision on Wednesday. Prime rate is what banks charge their best commercial customers, but it also affects credit cards and home-equity loans.

The increase should help net interest margins -- the difference between what banks charge for loans and pays depositors -- since most lenders didn't announce a boost in what they're offering customers for their deposits, according to analysts. Years of stubbornly low interest rates crimped banks' revenue and resulted in record deposits, meaning banks won't feel pressure to raise deposit rates any time soon, said Jason Goldberg, an analyst at Barclays Plc.
"They've been battling net-interest-margin compression for many years now, and this is a chance to get some relief," Goldberg said Thursday in a telephone interview. "It should be beneficial to revenue and earnings because your adjustable-rate and floating-rate assets will reprice higher and banks will lag in terms of increasing what they pay out."
Bank stocks have been on a tear since the election of Donald Trump, who has promised to increase spending on infrastructure, reduce corporate taxes and ease regulations on the financial-services industry. The 24-company KBW Bank Index has climbed 24 percent since Nov. 8, and is at its highest since February 2008.
'Good Run'
"For the first time in 10 years, there's reason to be optimistic about the bank sector," said Michael Rose, an analyst at Raymond James Financial Inc. "The banks have had a good run since the election, but I think there's reason after this run to continue to be optimistic."
The Fed hike was the first this year, and new projections show central bankers expect three quarter-point rate increases in 2017, up from the two seen in the previous forecasts in September, based on median estimates.
As a result, mortgage lenders including banks are bracing for a subdued year in 2017 as applications are expected to fall. U.S. home loan originations may decline 17 percent to $1.5 trillion in 2017 from a year earlier, according to Keefe, Bruyette & Woods. 
U.S. mortgage rates, already at a two-year high, rose for a seventh week and are predicted to climb further after the Fed's decision. The average rate for a 30-year fixed mortgage was 4.16 percent, up from 4.13 percent last week and the highest since October 2014, Freddie Mac said in a statement Thursday. The average 15-year rate climbed to 3.37 percent from 3.36 percent, the McLean, Virginia-based mortgage-finance company said.
Refinancing Slowdown
Higher rates also will damp refinancing activity, Goldberg said. U.S. Bancorp, the country's largest regional bank, said last week it expects mortgage revenue to decline 25 percent to 30 percent in the fourth quarter compared with the previous three months as fewer home owners refinance loans.
"The recent increase in rates has led to a clear slowdown in refinance activity that will impact both the fourth quarter and 2017," William Rogers, chief executive officer of SunTrust Banks Inc., said at an investor conference in New York last week.
Increased financing costs also will squeeze profits for auto lenders, including firms that make loans to the riskiest borrowers. This will put pressure on lenders' ability to service their portfolios at a time when losses are climbing and lenders face pressure to maintain volumes, while preserving steady performance.
As of the third quarter, U.S. Consumer debt was $12.4 trillion , just shy of the 2008 all-time high of $12.7 trillion, latest Fed data show. Overall delinquencies have risen slightly as of the most recent quarter, reflecting weakness in some segments of consumer borrowing. Bankruptcies, however, are lower than last year. 
Credit trends "have been so strong and so favorable, that I don't expect the recent move to change the outlook for loan quality," said Terry McEvoy, a Stephens Inc. analyst.
Before it's here, it's on the Bloomberg Terminal.
LEARN MORE