Your Evening Briefing
Here are today's top stories.
Bloomberg News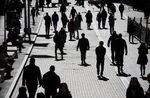 Want to receive this post in your inbox every afternoon? Sign up here.
Good afternoon, and happy Fed Day. Today is only the second time interest rates have been lifted since 2008, and economic conditions in 2016 look drastically different than they did eight years ago. That's left policy makers without a comparable precedent to guide their way as they try to determine a path forward for stable economic growth. If you're just looking for the text, you can read the Federal Reserve's full statement; if you prefer the dot plot, we've also got you covered there. —Megan Hess
Federal Reserve officials raised interest rates for the first time this year and forecast a steeper path for borrowing costs in 2017, saying inflation expectations have increased "considerably" and suggesting the labor market is tightening. The dollar rose and Treasuries slipped after the increase.
America's best and brightest are headed to Boulder. The Colorado city leads the 2016 Bloomberg Brain Concentration Index, which measures per-capita concentration of residents working in science, tech and engineering or who have science and engineering degrees. At the other end of the scale is Cumberland, Maryland, which tops the Bloomberg Brain Drain Index.
Amazon made drone delivery history… with popcorn. The retail giant made its first drone delivery to an actual customer, dropping off a Fire TV device and a bag of popcorn to a house in the rural English countryside just 13 minutes after receiving an online order.
Goldman shakes things up at the top. Goldman Sachs promoted CFO Harvey Schwartz and investment-bank co-head David Solomon to co-presidents, and said Martin Chavez will succeed Schwartz as CFO in the Wall Street firm's biggest management shakeup in a decade. Schwartz and Solomon succeed Gary Cohn, who's leaving for a job in the Trump administration.
American teens are smoking less pot. Fewer teens say they're using drugs and alcohol, with drug use down across the board of various substances, an annual study conducted by the University of Michigan has found. Some 45,000 students nationwide were asked whether they had tried various substances in their lifetimes, in the last year, and in the last 30 days.
Tech execs visited Trump Tower. Oracle co-CEO Safra Catz said a meeting with President-elect Donald Trump and other tech industry leaders on Wednesday would be "very important," particularly on the subject of international trade.
What is nduja and why is it suddenly on every menu? When chef Francesco Mazzei put nduja on the menu in London in 2006, he had to add a note explaining what it was: a spicy, spreadable sausage from southern Italy. Now, it's showing up everywhere: on pizza, stuffed inside squid, sprinkled in pasta dishes and even on supermarket shelves. (Pro tip: That's in-DOOJ-ah.)

Before it's here, it's on the Bloomberg Terminal.
LEARN MORE