Cash-Recall Chaos Means Venezuela's New Bills May Be Delayed
Andrew Rosati, Noris Soto and Nathan Crooks
Rollout of larger-denomination bills was promised by tomorrow

Status of replacement-banknotes shipments remains unclear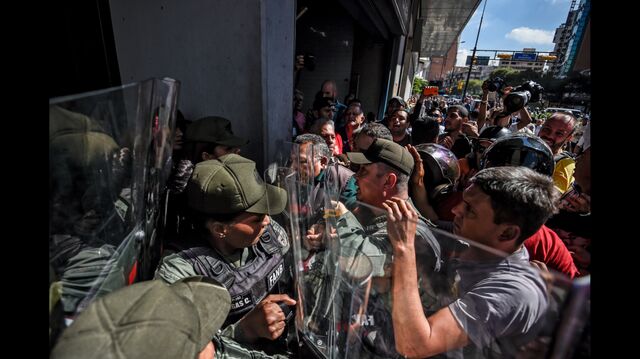 Roughly 24 hours ahead of a planned rollout of much awaited -- and much needed -- larger-denomination bolivar bills in Venezuela, banks had yet to receive the new tender on Wednesday, nor was it clear whether the banknotes had even arrived in the country.
The nullification of the 100-bolivar note was announced by President Nicolas Maduro on Sunday, with a 72-hour deadline, as an effort to combat currency hoarding he says is being used to destabilize the country. The decision, coupled with the closing of Venezuela's border with Colombia, caught the nation by surprise and has plunged citizens with bags of bills for deposit into chaotic scenes around banks and automated teller machines.
The swap plan, complicated further by the announcement that not all 100-bolivar notes would be accepted, risks leaving the country essentially cashless ahead of the holiday season and grinding monetary exchange to a halt.
"Besides the annoyance this will cause Venezuelans, it could generate a collapse of the payment system in general," said Asdrubal Oliveros, director of Caracas-based economic consultancy Ecoanalitica.
The central bank had said earlier this month that bills ranging from 500 to 20,000 bolivars would be introduced starting Dec. 15, bringing relief to Venezuelans who had found simple cash transactions increasingly difficult with the largest denomination of 100 bolivars fetching just a few U.S. cents at black-market exchange rates. Then Maduro ordered the recall of the 100-bolivar bill, currently the currency's largest denomination, resulting in stampedes at banks, with Venezuelans depositing bills or swapping them for smaller denominations ahead of Thursday's deadline.

But as of Wednesday morning, three of the country's biggest banks hadn't received any of the new notes, nor had they been told by the central bank when to expect them, according to officials from the private lenders, who aren't authorized to speak publicly on the matter.
One of the main banknote suppliers contracted by the Venezuelan government, Boston-based Crane Currency, hasn't filled its order of 500-bolivar bills before Thursday's deadline, according to two people with knowledge of the situation, who aren't authorized to speak publicly on the matter. As of late Tuesday, Crane was still hustling to ship tons of banknotes to Caracas from a facility in Sweden, one of the people said.
Supply Chain
Crane Currency declined to say whether they were printing bills for the Venezuelan government or, if they were, whether they would arrive on time. Other banknote suppliers contracted to print the larger-denomination bills weren't due to deliver until later this month, according to a person with direct knowledge of the situation.
"There's no operating capacity to take all the 100-bolivar bills out of the market, and there is no logistical capacity to replace them with larger bills," said Oliveros. Even though it's just worth a few U.S. cents, the 100-bolivar note accounts for almost 80 percent of the value of all currency in circulation and for almost half of all the bills in circulation, according to data from the central bank.
Still, Banco Central de Venezuela President Nelson Merentes tried to ease concerns on Tuesday, saying the new notes would arrive "progressively." At the same time, the Banking Superintendency and Banking Association both declined to comment on whether the new bills had arrived or when they would enter circulation. The central bank had said the new bills would start to arrive Dec. 15.
'Rational' Expectations
Merentes added the wrinkle that financial institutions will only accept "rational" amounts of 100-bolivar bills for the recall, adding "we won't accept people arriving with trucks and carts" full of money. The machinations of the government whipsawed people who just last week were lining up at ATMs to withdraw cash and are now rushing to deposit the same bills.
Venezuela's Armed Forces has decommissioned 88 million bolivars recovered in more than 100 operations carried out near the Colombian border in the past hours, state news agency AVN reported on Wednesday. That amounts to .01 percent of the 611 billion bolivars in 100-bolivar denominations in circulation.
Venezuela's economy has been hobbled by declining oil revenue, stringent capital controls and a decline in imports that caused inflation to spike, all amid a forecast for a decline of more than 10 percent in gross domestic product this year. Shortages of cash in an economy where about 40 percent of people don't have a bank account have made it necessary to carry huge amounts of nearly worthless bills for even simple transactions. 
While government critics are quick to point to state controls, Venezuela's ruling socialists insist triple-digit inflation and a hard-currency shortage are the result of an "economic war" launched by Maduro's political foes, who seek to stoke discontent by spiriting bolivars out of the country. The three-day closing of the Colombian border was in response to what officials call contraband "mafias," and was complemented with a ban on private flights and even drones during the time period.
Tax Break
To reduce cash transactions, Information Minister Ernesto Villegas said late Tuesday the government will cut sales tax for people using debit cards or credit cards. For those without bank cards, Christmas shopping takes on an added challenge. The sales-tax break for plastic transactions does little to soothe the concerns of shoppers like Maria Quintini, a 49-year-old dentist, who complain about the country's spiraling prices and shaky credit-card system.
"The paper money that's left isn't going to meet our needs," she said. "Every day I feel like I'm making less."
Data from the central bank, meanwhile, do point to a currency shortage. With a population of 30 million people, there are only about 26,000 bolivars of cash in circulation per capita -- just about enough to buy a single T-shirt or a bottle of wine.
— With assistance by Fabiola Zerpa
Before it's here, it's on the Bloomberg Terminal.
LEARN MORE