technology
U.K. 4G Coverage Worse Than Peru, Hurting Growth, Ministers Told
By
'Digital deserts' are holding back businesses: report

Infrastructure body says coverage is needed on roads and rails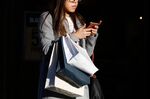 The U.K.'s coverage of 4G networks that provide fast connections for mobile phones and tablets is "worse than Romania and Albania, Panama and Peru," hurting economic growth, a government panel said.
Insufficient wireless networks are "holding British business back," the National Infrastructure Commission said in a report published Wednesday, setting out urgent policy recommendations.

The U.S. and Japan have data volumes four to five times greater than the U.K., according to the report.
"Our roads and railways can feel like digital deserts and even our city centers are plagued by not spots," said the report's author, former transport minister Andrew Adonis. "Britain is 54th in the world for 4G coverage, and the typical user can only access 4G barely half the time."
Current 4G networks fail to cover about one-fifth of urban premises and nearly four fifths of rural areas, according to the report.
The government must help providers build modern networks covering towns, railways and roads by 2025, and introduce a new universal service obligation to guarantee essentials including text, talk and data, the commission said. This should be accomplished by forming a new dedicated cabinet committee, it said.
Accurate metrics for mobile networks should also be guaranteed by the government, regulators and network providers, the commission said. About 93 percent of U.K. adults own a mobile phone and more Britons now access the internet through their phones than laptops, the commission said.
Before it's here, it's on the Bloomberg Terminal.
LEARN MORE