Trump Picks Former Texas Governor Perry as Energy Secretary
By
Rick Perry named to lead agency he once vowed to shut down

Perry is the third cabinet pick considered friendly to oil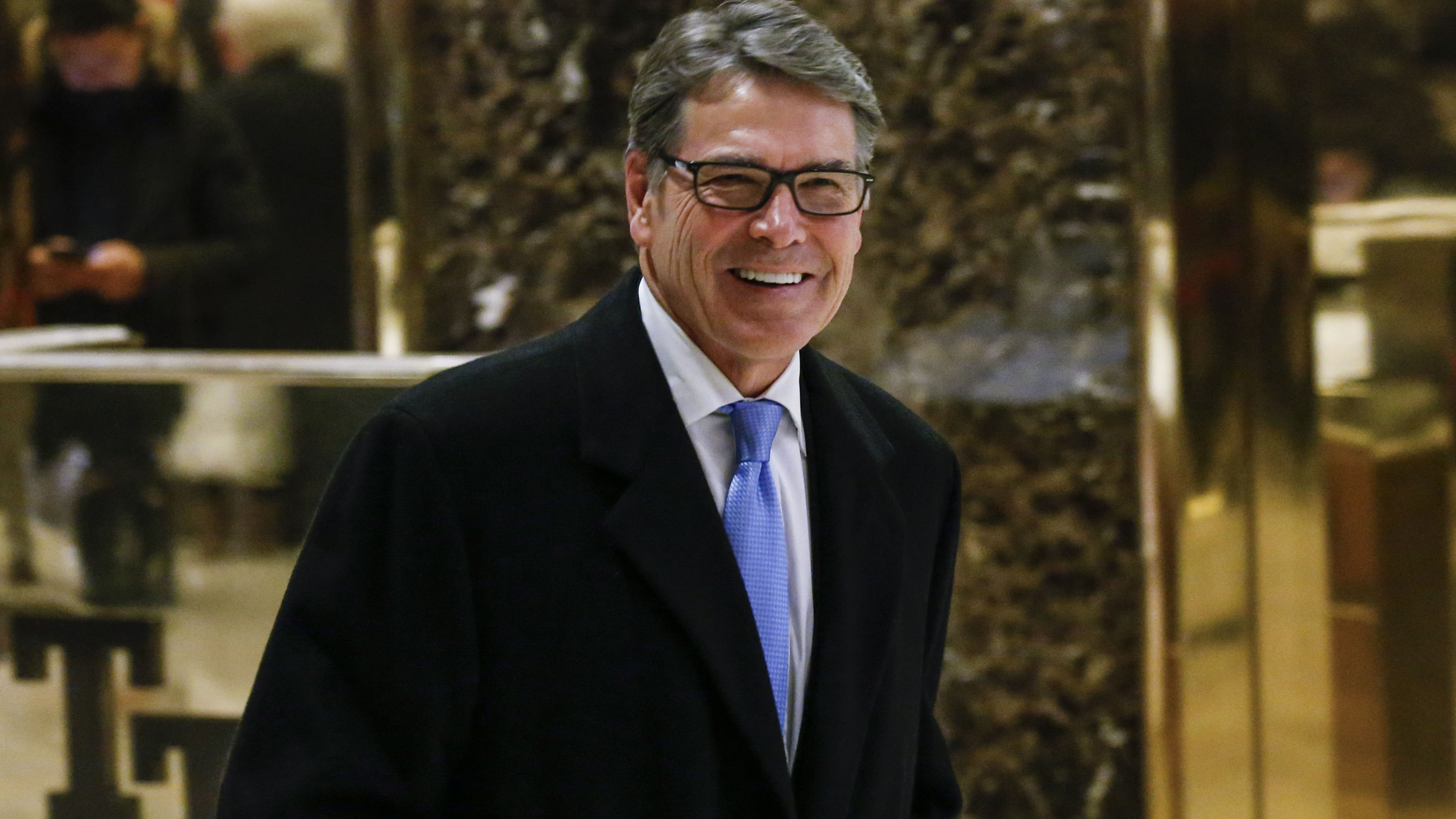 Former Texas Governor Rick Perry, a onetime rival of Donald Trump in the Republican primary, will be nominated by the president-elect as energy secretary, joining other cabinet picks considered friendly to the oil industry.
As the longest-serving governor in Texas, Perry, 66, was an advocate of "American energy," and oversaw a state that is a powerhouse in both fossil fuels and renewables. It is the nation's biggest producer of oil and, thanks to a wave of turbine installations, has the capacity to generate more wind energy than any other state.
Perry's selection puts the vast Energy Department in the hands of a man who once vowed to shut it down, but famously forgot the agency's name during a presidential debate. Trump's latest pick also angered environmentalists and some Democrats in Congress including House Minority Leader Nancy Pelosi, a California Democrat, who said Perry "is an anti-science, climate change denier" and would favor special interests over health and safety.
Trump said in a statement he was swayed by the Texas governor's tenure in office during which Perry "created a business climate that produced millions of new jobs and lower energy prices in his state, and he will bring that same approach to our entire country as Secretary of Energy."
"My administration is going to make sure we take advantage of our huge natural resource deposits to make America energy independent and create vast new wealth for our nation," Trump said.
Perry would be the Energy Department's first leader in more than a decade without an advanced degree and a background in the physical sciences or engineering. The current Energy secretary, Ernest Moniz, is a nuclear physicist, and his predecessor, Stephen Chu, won the 1997 Nobel Prize in physics. Perry has a bachelor's degree in animal science.
Oil Boosters
The Texas politician will take the helm of a 39-year-old department that is chiefly responsible for managing the national nuclear weapons complex, promoting nuclear security and advocating nonproliferation. Under President Barack Obama the department has also played a role in advancing clean energy technologies.
Perry is at least the third cabinet pick considered an ally of the oil industry, with Trump's selection of Exxon Mobil Corp. CEO Rex Tillerson to be secretary of state and Oklahoma Attorney General Scott Pruitt, who has a history of suing the Environmental Protection Agency, as chief of that agency.
In the statement announcing his selection, Perry called it "a tremendous honor." Perry served as governor of the Lone Star state from 2000 to 2015, and is a former Eagle Scout and U.S. Air Force veteran.
"As the former governor of the nation's largest energy producing state, I know American energy is critical to our economy and our security," Perry said in the statement. "I look forward to engaging in a conversation about the development, stewardship and regulation of our energy resources, safeguarding our nuclear arsenal, and promoting an American energy policy that creates jobs and puts America first."
'Special Interests'
Pelosi, the Democratic leader on Capitol Hill, said the Perry decision was an example of Trump stocking a cabinet "of and for the special interests," and said the energy secretary needs to work on issues from nuclear non-proliferation to climate change and clean energy.
Perry is "yet another champion of the special interests," Pelosi said in a statement. "The Secretary's decisions must be evidence-based. Governor Perry is an anti-science, climate change denier nominated to fill a critical cabinet post most recently held by two physicists, including a Nobel laureate."
Environmental groups such as the Sierra Club condemned the choice of Perry, calling it a "reckless, dangerous decision" that showed little interest on Trump's part in governing.
"Trump's latest appointment is an insult to our functioning democracy," the group's Executive Director Michael Brune said in a statement. "Putting Perry in charge of the Department of Energy is the perfect way to ensure the agency fails at everything it is charged to do, so Trump might as well just lock the doors for four years."
Presidential Runs
Perry twice ran for the Republican presidential nomination, presenting himself as a pro-business candidate and boasting of Texas's strong job-creation record during his tenure.
His first campaign was marked by a series of gaffes, the most famous of which was a 2011 debate that saw him unable to name the third federal agency -- the Energy Department -- that he wanted to disband along with the Departments of Commerce and Education. 
A second run, launched in 2015, began with high expectations but ended only a few months later amid low poll numbers after he failed to spark interest and cut through a crowded field of candidates. Early in that campaign he was a leading critic of Trump.
"Let no one be mistaken," Perry said during a speech in Washington in July 2015. "Donald Trump's candidacy is a cancer on conservatism, and it must be clearly diagnosed, excised and discarded. It cannot be pacified or ignored."
Dakota Pipeline


Perry serves on the board of Energy Transfer Partners LP, the company whose Dakota Access Pipeline project has drawn opposition from American Indians in North Dakota and has become a rallying cry for environmentalists. While the Obama administration has stalled the project, Trump has signaled he will speed federal approvals for energy infrastructure.
Perry engaged in a very public feud with the EPA over U.S. biofuel mandates, after leading an unsuccessful campaign in 2012 to persuade the agency to lower quotas.
He began his political career as a Texas state representative and, from 1994 to 1998, served as the state's commissioner of agriculture. He succeeded George W. Bush as governor in 2000.
— With assistance by Jennifer A Dlouhy, and Kasia Klimasinska
Before it's here, it's on the Bloomberg Terminal.
LEARN MORE