Trump Bank-Regulation Rollback Raises Global Risks, Sweden Warns
By and
Sweden's Andersson says fiscal policy now needs to stand ready

Sweden will use fiscal policy to clear economic bottlenecks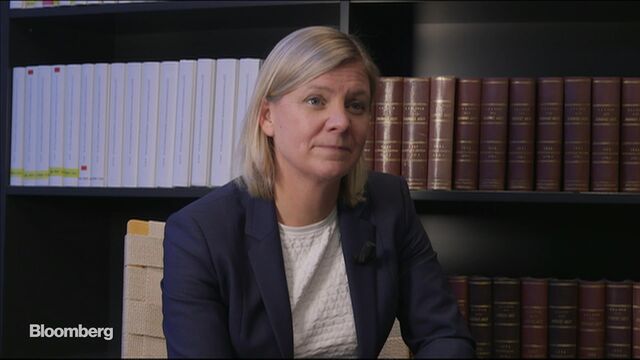 The world can ill afford U.S. President-Elect Donald Trump rolling back the regulatory banking framework that has been erected as a defense against future financial crises, Swedish Finance Minister Magdalena Andersson warned.
Andersson, who's presiding over one of Europe's fastest growing economies, says she has been "surprised" by the positive market reaction following the victory of the former reality television star in last month's presidential election.
"Deregulation may increase access to capital in the beginning, but in the long run it may have dismal consequences," the 49-year-old Social Democrat said in an interview Wednesday at the Finance Ministry in Stockholm. "To go back to what we had before the financial crisis is obviously not the right way to go."

The president-elect has promised to supercharge the U.S. economy with measures including banking and energy deregulation, tax cuts and added stimulus through infrastructure spending. Trump's advisers have suggested ripping up parts of the Dodd-Frank Act, the centerpiece of the U.S. response to the financial crisis, will promote growth and jobs.
Sweden's economy meanwhile has surged over the past years even as it enacted some of the toughest banking regulations in the world. According to Andersson, the ability to clear up after a crisis is now also smaller given the record-low rates across the globe and more of the burden would fall on governments.  
 
"If we end up in a downturn, that means that fiscal policy needs to stand more ready than before, and perhaps act earlier and more powerfully than in a different interest rate environment," she said.
Clearing Bottlenecks
The Swedish government has done away with the deficits built up during the financial crisis and the economy also stands to benefit from more positive signs in the euro area, she said. Rate increases from the Federal Reserve could also have a positive effect since "people may feel they're in more normal times."
Looking ahead, she's planning to use fiscal policy to help with some of Sweden's growing pains, including shortages in the labor market.
"During the past few years, we've had high growth in Sweden and that's not a situation where you need fiscal stimulus," she said. "The most important thing now is to use fiscal policy to widen the bottlenecks that we see, not least labor shortages, which risk damping our good development."
Before it's here, it's on the Bloomberg Terminal.
LEARN MORE