Tech's Agenda in Trump's Washington: QuickTake Scorecard
By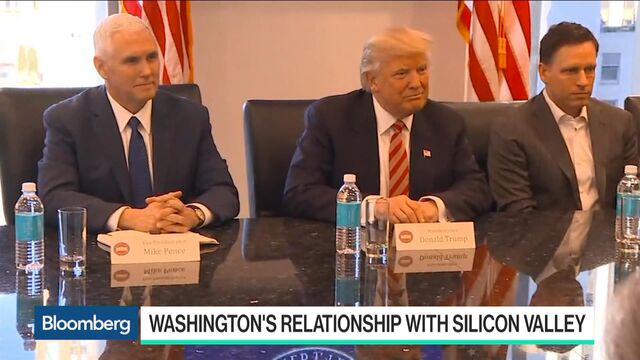 As a candidate for president, Donald Trump made reference to "the cyber" and suggested he might talk to Bill Gates about "closing that internet up" to terrorists recruiting via social media. He doesn't use e-mail or a computer, despite a lively interest in tweeting. Internet companies heavily favored Democrat Hillary Clinton with their political donations. Now Trump and the tech industry are making an uneasy peace and exploring whether they can work together. Here is some of what the tech crowd is hoping for:
Welcoming foreign workers
Skilled foreign workers come to the U.S. under the H-1B visa program, the main guest-worker program.
WHERE TECH STANDS
Silicon Valley is pushing to ease restrictions and increase the limit on immigrants per year. "The U.S. economy creates technology jobs faster than Americans can currently fill them," says the Information Technology Industry Council, a tech trade group based in Washington.
WHERE TRUMP STANDS
Trump proposes a higher minimum pay rate for recipients of H-1B visas, to encourage hiring U.S. workers for lower-paid, entry-level jobs, and wants to make sure employers try to hire American workers first, which they're not currently required to do.
Lowering corporate taxes
The current U.S. corporate tax rate is 35 percent. Companies are taxed on their global profit, but are allowed to defer taxes on overseas earnings until they return them to the U.S. Multinationals including Apple Inc. and Oracle Corp. have avoided U.S. taxes by holding as much as $2.6 trillion, combined, in profit offshore, money that Trump and congressional Republicans hope to lure back home.
WHERE TECH STANDS
The tech industry wants lower taxes across the board, with one trade group calling for a 22 percent rate, and an end to taxing revenue earned abroad if it's brought back the U.S. Cisco Systems Inc., which has almost $60 billion offshore, has pushed for years for lower taxes.
WHERE TRUMP STANDS
Trump has proposed an overall corporate tax rate of 15 percent, and a rate of 10 percent on companies' accumulated offshore profit. A House Republican plan would set the corporate rate at 20 percent, with repatriated profits taxed at 8.75 percent (for cash or cash equivalents) or 3.5 percent.
Outsourcing manufacturing
If you look at an iPhone, it says "Designed by Apple in California. Assembled in China." While many leading consumer technology companies are based in the U.S., where they dream up and market their products, they've increasingly outsourced manufacturing to other countries.
WHERE TECH STANDS
Apple's main manufacturing partner is Foxconn Technology Co., which says it's in preliminary discussions to expand U.S. operations. Intel Corp. provides chips to many Taiwanese device-makers. American corporations have more than $228 billion in China investments at stake in the event of a trade conflict between the world's two biggest economies.
WHERE TRUMP STANDS
Trump has called for Apple to move production back to the U.S. to create jobs and vowed to get tough with China on trade.
Respecting encryption
A court ordered Apple to help federal law enforcement officers unlock a phone used by one of the shooters who killed 14 people at a holiday party in San Bernardino, California. The decades-long policy debate over encryption could be set to resume, with tech companies resisting government requests for a key or backdoor that grants law enforcement access to encrypted communications.
WHERE TECH STANDS
When Apple refused to comply with the court order, it got backing from fellow tech giants including Facebook, Google and Microsoft. The controversy dissipated after the government bought a software tool that allowed access to the contents of the encrypted phone.
WHERE TRUMP STANDS
During the campaign, he called for a boycott of Apple products until Chief Executive Officer Tim Cook honored the court order. "The government should come down on Tim Cook very, very hard," Trump said in an interview in February. Trump and Congress may move to reinstate the collection of bulk telephone records, renew powers to collect the content of e-mails and other internet activity, ease restrictions on hacking into computers and let the FBI keep preliminary investigations open longer.
Preserving an open internet
Silicon Valley is keen on preserving the Federal Communications Commission's 2015 net neutrality rule. The Republican majority in Congress could pass a law to negate it, or the FCC, led by a Trump appointee, could pass a new rule superseding it.
WHERE TECH STANDS
Smaller companies and startups worry that without legal protection, their bits and data may have trouble reaching consumers who are tied into one or two service providers.
WHERE TRUMP STANDS
In a 2014 tweet, Trump called the net neutrality rule, then under consideration, an "attack on the internet" that would serve to "target conservative media." He named critics of net neutrality to his transition team.
Transporting people

Tech companies, whether through the sharing economy or via driverless cars, are moving into transportation.
WHERE TECH STANDS
Uber Technologies Inc. and Lyft Inc. reacted positively to Elaine Chao's nomination as transportation secretary. Chao, a former labor secretary, last year lauded the digitally enabled economy as a job creator.
WHERE TRUMP STANDS
In addition to nominating Chao, he's named Uber CEO Travis Kalanick to his advisory business council.
The Reference Shelf
Before it's here, it's on the Bloomberg Terminal.
LEARN MORE