Online Fragrance Startups Smell Money
Hawthorne and a new batch of scent merchants want a chunk of the $4 billion market.
By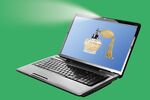 Fragrances are a $4 billion annual market, with men accounting for a quarter of it, according to consulting firm A.T. Kearney. But Brian Jeong thinks the way guys go about buying scents—having a sales associate assault their olfactory senses—stinks. His fix? Delivering proprietary colognes to men who won't have to wander any farther than their phone to order the stuff, at prices that beat the beauty counters. Jeong's company, Hawthorne for Men, is the latest in a category of digital-native fragrance boutiques banking on the proposition that you'll pay money for what you can't smell first.
Step No. 1 is getting guys to pay any money at all, because 43 percent receive their fragrances as gifts, according to market researcher NPD Group. Jeong says he can ensure satisfaction by asking men a few questions. Users enter biometric info (Does your body run hot or cold? Are you a vegetarian or an omnivore?) and choose behavioral and lifestyle leanings (Introvert or extrovert? Hipster or preppy?). Jeong says the data points are relevant because they're based on studies, such as the way body temperature affects how long a scent lasts. He and his co-founder, Phillip Wong, both 27, also surveyed friends and co-workers on their reactions to Hawthorne's 10 original fragrances.
The answers are run through an algorithm that selects two scents—a strong one for "play," a subtle one for "work"—designed by award-winning perfumers. The two 1.7-ounce bottles arrive in about a week and cost $100 total, a big discount off the most successful department-store brands. The best-known fragrance from Hawthorne scentologist Rodrigo Flores-Roux, Neroli Portofino for Tom Ford, is $225 for the same-size bottle. If you're dissatisfied with the picks, a replacement is free. So far the return rate is under 5 percent, Jeong says.
He and Wong know each other from high school, when they started a streetwear line before landing jobs in e-commerce and fashion. Hawthorne, which launched in October, is the first online fragrance seller to tackle the men's market specifically, but it's not the first to put perfume on the internet. Two years ago in San Francisco, Christine Luby, 34, and Erika Shumate, 32, founded Pinrose for the millennial woman who "lives with all five senses." Shumate studied the psychology of scent at Yale and developed a smell quiz of her own; you can buy a proprietary fragrance for $55 or a "Petal Pack" for $30, which includes 25 single-use testers in as many as five scents. There's also unisex scent maker Phlur out of Austin, which began in July. Founder Eric Korman, 45, the former president of Ralph Lauren Digital, presents the six fragrances available on Phlur's site in unique terms: Siano, for example, shown against a backdrop of city lights and scored to tracks by Drake and Hot Chip, is "a pure expression of elation." Shoppers order samples of two scents for $10, a fee that's subtracted from the $85 cost of the bottle they finally choose.
The companies have raised millions of dollars from Silicon Valley investors—Bonobos co-founder Brian Spaly bought into Pinrose—and each reports high rates of customer satisfaction. Still, not everyone in the industry is sold on the formulaic approach. Jason Fried, who consulted for the technology and innovation office at a top fragrance house (he won't say which) and advised Phlur, is wary of quizzes. "Sense of smell is biological," he says. "People who you would think are very similar will have different preferences."
Having tried all three services (no, I'm not in Pinrose's target demo, but so what?), I can say that each had its own interpretation of what scent would work best for me: Pinrose's Pillowtalk Poet was powdery, Phlur's Greylocke was salty and aquatic, and Hawthorne's Play selection smelled of dry wood and smoke. I liked them all. With their generous return policies, there's little to be lost from giving these a go. Except, maybe, that associate's commission at the perfume counter.
Before it's here, it's on the Bloomberg Terminal.
LEARN MORE