Murdoch Faces U.K. Fight for Sky as EU Foes Turn Other Cheek
By and
Pro-Brexit mogul unlikely to see EU opposition to planned deal

U.K. campaigners to seek review from U.K. media watchdog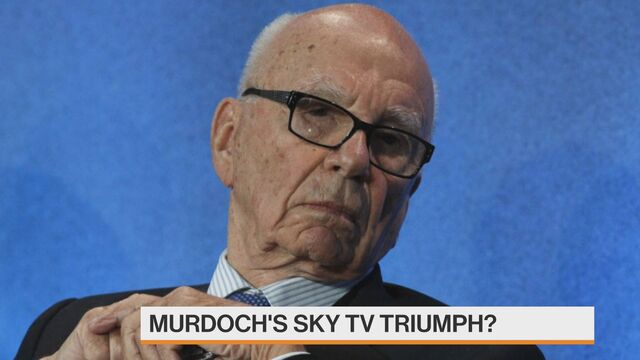 Rupert Murdoch's proposed $14.2 billion deal to take full control of U.K. broadcaster Sky Plc will likely face more trouble at home in Britain, which is preparing to exit the European Union, than with powerful EU antitrust regulators.
Months after the media mogul greeted the U.K.'s vote to quit the bloc as "wonderful" and like a "prison break," lawyers say Murdoch's EU foes are unlikely to kick up a fuss if his 21st Century Fox Inc., follows through on plans to take over Sky. Headwinds for the deal are centered in the U.K., where campaigners are hoping to again fuel public outrage that thwarted Murdoch's plan to buy Sky five years ago.
"There is a lot of public concern about the corrosive power of the Murdochs -- it would be crazy for authorities to wave this through," said Alex Wilks, a campaigner at Avaaz, a nonprofit advocacy group that plans to repeat its 2011 calls on U.K. politicians to review and rule against the deal. That campaign hit a nerve as reports emerged of Murdoch newspapers hacking phones to listen to private voice-mails.
Unfinished Business
Murdoch's 21st Century Fox, which owns 39 percent of Sky, reached a preliminary accord last week to acquire the rest of Europe's top pay-TV company. A formal bid may be announced as soon as Thursday. Should the deal work out as planned, the 85-year-old billionaire would wrap up a piece of unfinished business.
The U.K. government can ask media regulator Ofcom to check whether a deal might harm the plurality, or existence of different views, in the country's media. Ofcom also had to check five years ago whether Sky was "fit and proper" to hold broadcast licenses after the phone hacking scandal. Unlike the News Corp. bid for Sky at that time, Fox doesn't own any U.K. newspapers, which were spun off in 2013.
21st Century Fox and Sky declined to comment.
In contrast, the European Commission is expected to look at how the deal harms competition, even though it is separately investigating Sky over pay-TV contracts.
Powerful Platform
Gaining total ownership of Sky would give Fox, which owns cable networks including FX and Nat Geo, a powerful distribution platform in Europe for pay TV and internet. Sky's contracts with movie studios, including Murdoch's Twentieth Century Fox, are being probed by the EU which says they unfairly prevent sales of pay-TV subscriptions outside the U.K. and Ireland. Companies argue such contracts are required by copyright terms.
"The EU will look at the vertical relationships arising from Fox's activities upstream as a licensor of broadcasting rights to premium movie content, pay-TV channels and other TV content and BSkyB's activities as a TV channel producer and retailer of pay-TV services," said Matthew Hall, a lawyer at McGuireWoods LLP in Brussels.
"Fox is one of the parties to the pay TV case which is looking at this issue, but I don't expect that case to have an impact since it is purely an antitrust case and is nothing new in terms of the market structure," Hall said.
Significant competition concerns seem unlikely to be a focus for the EU, said Sophie Lawrance, a London-based partner at Bristows LLP. "The more significant question is again going to be around the media plurality review in the U.K."
Ed Miliband, who was leader of the opposition Labour Party when a proposed takeover was last considered by lawmakers, said the deal shouldn't be allowed to go ahead because of the continuing shadow of the phone-hacking scandal that soured it last time.
"We still have cases of phone-hacking unresolved," Miliband told U.K. lawmakers. "What has really changed since this house passed a motion five years ago? I believe very little."
A report from Ofcom last year shows that news consumption has changed since 2013, with people relying less on TV, radio and newspapers and turning more to the internet to access traditional media sources and social media for news updates.
Before it's here, it's on the Bloomberg Terminal.
LEARN MORE