London Mayor Khan to Sell Predecessor's Unused Water Cannons
By
Proceeds from sale to go toward tackling capital's gang crime

Total cost of cannons more than 400,000 pounds since 2014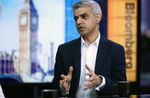 London Mayor Sadiq Khan is selling the three water cannons acquired by his predecessor for potential use against rioters following unrest in the U.K. capital in 2011.
Proceeds from the sale of the cannons -- bought second-hand from Germany in 2014 by then Mayor Boris Johnson -- will go toward tackling gang crime in London, Khan's office said in a statement Wednesday. The Ministry of Defence will be in charge of finding a European buyer with the most "rigorous ethical standards" to ensure that they are not misused.
"It beggars belief that such a huge amount of taxpayers' money has been wasted on paying to store these redundant machines," Khan said. "It's my job to claw back as much of London taxpayers' money as I can."
Johnson, now foreign secretary in Prime Minister Theresa May's Tory government, paid 225,000 pounds ($284,000) to purchase the vehicles and prepare them for use in the U.K. but subsequent work has taken the total bill to 323,000 pounds, according to Khan's office. The costs include 32,000 pounds to comply with London's low-emission zone regulations and almost 1,000 pounds for radio/CD players. Selling the cannons will save 175,000 pounds in maintenance over the next eight years, Khan's office said.
The use of the cannons was blocked by May, who was home secretary at the time of purchase. They have been left unused and kept in storage for the past two years.
Khan made tackling gangs and knife crime a priority in his manifesto prior to becoming Mayor in May. London has more than 225 recognized gangs, comprising around 3,600 members, according to the Metropolitan Police Website. There were 1,782 reported incidents of injuries caused by gang-related knife crime in the 12 months to September, with 311 reports of guns being discharged over the same period -- up from 218 a year earlier.
The water cannons "do not belong on the streets of London, and by selling them we're able to put money back into helping young people affected by gang crime and keeping Londoners safe," Khan said.
Before it's here, it's on the Bloomberg Terminal.
LEARN MORE